AN reported misunderstanding over "ganja" has left a 23-year-old Queenstown, Region Two farmer dead and another man hospitalised with several gunshot injuries.
Dead is Keyion Mc Lennon, called "Bamzey." The injured man, who has been identified as "Fronto," is currently a patient at the Suddie Public Hospital.
The shooting incident occurred around 19:30hrs on Saturday at the Queenstown bus shed. Police acting on information searched the backlands and parts of Onderneeming for the suspect but up to press time he had not been caught.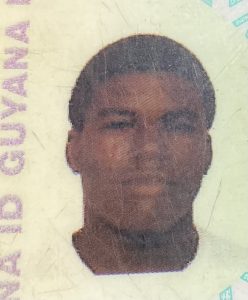 Residents recalled hearing the sounds of two gunshots coming from inside the bus shed. According to the information reaching the Guyana Chronicle, the deceased and the suspect were having a heated argument when "Fronto" assumed the role of peacemaker and intervened. The suspect later pulled out a gun and discharged several rounds which fatally struck Mc Lennon and injured "Fronto."
Persons gathered at the scene told the Guyana Chronicle that they found the deceased lying in a pool of blood and immediately rushed him to the Suddie Public Hospital, where doctors pronounced him dead.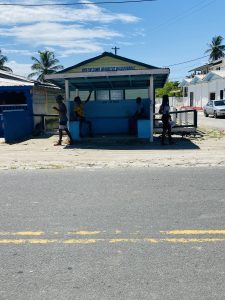 Mc Lennon's father Donald was unable to contain his tears when this publication approached him. He called for justice for his slain son before recalling that he last saw him around 18:00hrs on Saturday. He recalled that earlier in the day he and the suspect crossed paths and they raised their hands at each other.
"I raise my hand to he. I did not know that he would shoot my son. I am so sad over this. That's my second son and I love him a lot. He doesn't trouble no one but the man who killed him is a bad boy, he does go jail steady and come out," the man said.
He urged the police to continue searching the Onderneeming backlands for the suspect.
"We don't know what stemmed the issue, but it was a misunderstanding and we want the police to do their part and catch the suspect," he added.
Meanwhile, an aunt of the deceased, Shondel Venture, said when she heard of the incident she immediately went to the bus shed where she saw her nephew lying lifeless. She said he was shot twice to his abdomen. She like Mc Lennon's father is calling for justice.
This newspaper understands that many youngsters would usually hang out in the evening at the bus shed to allegedly smoke ganja. Residents are therefore calling on the police to increase patrols in the area.
Mc Lennon's body is currently at the Suddie Mortuary awaiting a post-mortem.