TWO men were, on Wednesday, remanded to prison for the murder of 53-year-old taxi driver, Kenrick Trim, whose lifeless body was found at Cul-de-Sac Street, Block One, Ogle, last month.
Kenty Bacchus, called 'Trini' and Seyon James, called 'Lil Alfey', appeared before Magistrate Roshell Liverpool at the Sparendaam Magistrate Court where they were not required to plead to the indictable charge. The duo was remanded to prison until August 6. On June 30, 2021, Trim was found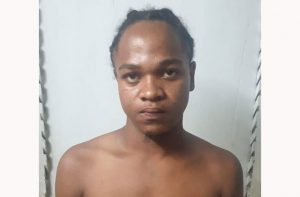 lying motionless in the grass at the end of Cul-de-Sac Street. According to a police report,
Trim's body appeared to have been dumped from his silver-grey Toyota Premio motorcar, which was parked a short distance away from where the body was discovered. Trim was taken to the Georgetown Public Hospital Corporation (GPHC) where he was pronounced dead on arrival by a doctor on duty. A police investigation led to the arrest of Bacchus, who was nabbed at his Water Street, Kingston home, with Trim's cell phone. During interrogation, Bacchus reportedly admitted to the crime and implicated James. According to reports, on the day in question, Trim was working his taxi in the vicinity of Carmichael Street when he was stopped by the two accused, who requested to be taken to an East Coast Demerara location. While in Ogle, the men allegedly stabbed Trim several times with a knife and robbed him of his cell phone, gold jewellery and money.