FORMER Prime Minister, Samuel Hinds, who served briefly as President of Guyana, on Thursday, assumed duties at the Embassy of the Co-operative Republic of Guyana as Guyana's ninth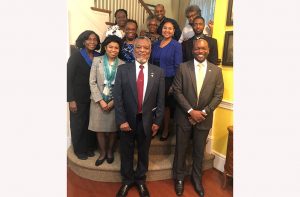 ambassador to the United States and fifth Permanent Representative to the Organisation of American States. According to a release, Ambassador Hinds has had a career working in Guyana, beginning at the Demerara Bauxite Company in 1967 and staying on after its nationalisation in 1971, unto 1992 following which he served as Prime Minister and Vice-President of Guyana from 1992 to 2015. Ambassador Hinds also served as Executive President of Guyana from March to December 1997, following the passing of former President, Dr. Cheddie B. Jagan.
Ambassador Hinds attended the University of New Brunswick in Fredericton, New Brunswick, Canada (1963-1967) where he graduated with a Bachelor of Science Degree in Chemical Engineering, and is also the holder of an Honorary Doctorate of Science (1994) from that university. He therefore brings to his new post, a wealth of experience having served in the highest offices of Government and looks forward to the further strengthening the extant relations between Guyana and the US, as well as with the Organisation of American States, the release said.
Guyana and the US established formal diplomatic relations on May 26, 1966. Formal diplomatic relations were also established with the Organisation of American States in 1991.