-young author launches guide to a spiritually fulfilling lifestyle
PHYSICAL, mental, spiritual and sexual impurity, or immorality, are not foreign concepts to many teens and adults. Many neglect the concept of 'purity' for pleasure and self-satisfaction, as well as the satisfaction of others, in pursuit of seemingly more fulfilling things in life.
However, 27-year-old author and worship leader, Alicia Martin, is committed to showing the importance of maintaining purity in one's lifestyle.
Through her recently-launched book, "Slay in Purity", the vibrant young woman intends to highlight the major role purity plays in one's life, the discovery of one's purpose, and the fulfilment thereof.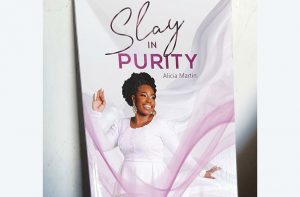 The publication which is available in paperback, focuses on sex, lifestyle practices and purity.
The intention, Martin says, is to encourage persons to live their best life, to do what they need to do and what God wants them to do, while remaining pure.
"I know that we all try to win in various areas of our life, which includes our business and careers, and all these things, but purity is an area that the book highlights as very, very important; an area that the book encourages persons to live pure. As much as they want to do everything else, as much as they have other mandates and things they need to do, areas that they want to win in, slay in, and be their best in, purity should be one of those areas as well," Martin related in a recent interview with the Guyana Chronicle.
Speaking a bit as to where she drew inspiration for her book, Alicia revealed that the book was inspired by struggles of her own, which God helped her through.
"I have had struggles with impurities for many years. And there is where the inspiration actually comes from. And this is not just about me only but other persons who would have had struggles with impurity, and staying pure, and all that," she said.
Not only does her book highlight areas of purity with regards to the body, but it also looks at purity from the perspective of the mind, and the heart as well. But, what exactly does "slay in purity" mean? "'Slay' is a word we like to use when we dress up, when we're looking good, when we're doing well in a particular area, or so forth. I wanted to use that word, because it is one that is very catchy, and it's one that many persons can relate to. We like to say, 'oh, you're slaying, you look good'. So I wanted to use that word to help persons to understand, 'hey, just the way I slay with my looks, the same way I can slay with my purity as well," Alicia explained.
BROAD AUDIENCE
Asked who she intended the book to help when she started penning it, Alicia laughingly explained that there was no specific group of people that the book was intended for. Anyone, she says, is encouraged to read the book as long as they seek to improve their lifestyle.
"The target audience is broad. The book is specifically for ministers of the arts, Christian believers, and people who are in various ministries with regards to worship, dance, musicians, and so forth. It's for those persons who are apostles and pastors and all of this, but, however, it is for persons beyond that as well, because it addresses different areas with regards to standards, and soul ties when it comes to sex and all these things," she noted.
While the title of the book contains "modern lingo", Alicia advised that the book is not just for young, single persons, but for anyone who wants to make conscious decisions to improve their lifestyle. "As I mentioned, the book is about sex, lifestyle practices and purity. So, there are so many areas with regards to sex that the book talks about; that it's also for non-Christians. There are so many things in there, so it's not just for Christians. The reason I wrote with Christians in mind as well, is because I know that according to God's word, we're not supposed to fornicate, we're not supposed to commit adultery, and all these things, and these are still things that we find Christians doing. So, this is also appealing to them, but it is for a wider target audience," she stated.
MINIMAL CHALLENGES
According to Alicia, the book took her six months or less to write. She said the writing process has helped her to be disciplined, and exercise focus and commitment to any task or assignment she is given. Her only challenge was the fact that she wrote late at night, due to her profession as a public relations officer, which required a lot of her time.
"Other than that, I didn't really have a lot of challenges. Writing for me was fun. Writing for me was a learning process. It was an adventure, but what I can say is that everything that is in the book are things that God has taken me through as well. I was very authentic with my writing," she expressed.
Due to her love for writing and dance, which she utilises as a form of worship, and as a hobby, she knew that a spiritual work of her own was somewhere in her future. While she wanted to become a writer for a very long time, what she didn't know was that the opportunity would present itself so soon.
Fortunately, with the publication of her first book, more work from Alicia will definitely be coming soon.
Asked what she wants readers to take away from her book, Alicia responded: "First off, I want persons to have an open mind as they buy the book. My hope is that their life would be transformed by the content that is in the book, and they would be able to live their very best life, and live a pure life; a life that would reflect God, and who He is."
She credits much of the assistance with her writing process to her parents, and publisher, Denise Allison Harris (DAH) Publishing. She encouraged persons who set out with similar goals, whether to publish a book or go about some other venture to set their fears aside and "go for it".
"Do it. Because you never know who you might be inspiring. You never know who is waiting on you to do that thing that God has called you to do. So, my encouragement to that person is, do it. In spite of the odds and in spite of the challenges, do it," she urged.
Alicia Martin is the director and founder of the Royalty Dance Ministries, the visionary behind the Arise Dance Workshop, and the host and producer of a series for dance ministers, titled, "The Vessel". She is also a dance instructor.
She is the holder of a Bachelor's Degree and Diploma in Communication Studies from the University of Guyana (UG). She possesses a Certificate and Diploma in Dance from the Institute of Creative Arts and the National School of Dance, and a certificate in TEN Pageantry from the Eagles International Training Institute, Guyana.
Alicia is a motivational speaker and a purpose-driven young woman who strives for excellence in all that she pursues.
Anyone desirous of attaining a copy of the book can do so by contacting the author via her Facebook page under the name Alicia Martin; via email at aliciamartinpublicfigure@gmail.com; or on her cell number, (+592) 693-5664. Persons living in East Berbice, Region Six, can also contact (+592) 614-3369 or (+592) 668-5519, while persons living in Georgetown, Region Four, can contact (+592) 661-3184 or (+592) 610-0479.