THOUGH floodwaters have begun to recede in the town of Lethem, several communities in Region Nine (Upper Takutu-Upper Essequibo), particularly the North Rupununi, continue to battle severe flooding, this is even as the region's COVID-19 situation continues to escalate.
Speaking with the Guyana Chronicle on Sunday, Regional Chairman Brian Allicock said that while some 2,200 food hampers have already been distributed in the region, several officials are out in the fields doing further assessments for the compilation of a report that will be sent to central government requesting more assistance.
Allicock estimates that as much as 22,000 people are being affected by the flooding of the region.
"We have officers in the field at the moment doing an assessment. We have to know what other aid we need to give to the people, so they are there and probably by about next week time they will come out with their reports, and we will look at what we get and then send it to central government for them to [make] a decision," the regional chairman explained.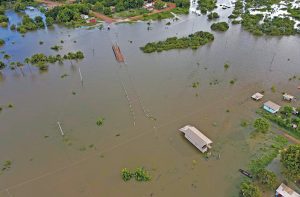 "We have already distributed about 1,500 food hampers from the Civil Defence Commission and another 700 from the RDC. But the lists are still coming in, some people did not get in the first half because their names were not submitted so we're looking at it. We have requested for 1,600 more hampers, so we are hoping that by this weekend, we would be getting more hampers."
Aside from food hampers, Allicock said the region will also be trying to source personal hygiene products, such as baby and adult diapers, and sanitary napkins for women.
Allicock is also calling on persons, who have relatives in the region, to reach out and assist in any way they can, given the extent to which flooding has affected the houses and livelihoods of residents. "The waters in the north are still up. In the entire region people lost all of their crops, even on the mountain tops," Allicock shared.
Though the entire country is being affected by flooding due to unusually heavy rainfall, in Region Nine the seasonal flooding is said to occur when water from the Amazon Rainforest in Brazil travelled through the Rio Negro River to the Brancho River and, eventually, made its way to Region Nine.
On Thursday last, President Irfaan Ali officially declared the flooding situation in the country a national disaster; Region Nine has been affected by the flooding since last month.
"Some persons' homes in some villages are in water for two weeks now. Rewa is one of the hardest hit villages, just a few homes remain without having water in it or around it. Then we had Massara, Yakarinta, they were really hard hit," the regional chairman said. Apart from destroying farms and livelihoods, the flooding in Region Nine has also devastated infrastructure, including roads, cassava farms, farine and bread-making shops. The flooding blocked off several access roads, which has made getting aid to affected areas even more difficult over the past few weeks.
Compounding the flooding situation is also an increase in COVID-19 cases. "It is a difficult situation at this time with the flooded areas and COVID on top. So in both ways people are losing out. It's both issues we have to worry about on a daily basis. We are trying our best," Allicock related. He noted too that the residents are not adhering to precautionary measures to curb the spread of the deadly virus. "The COVID cases are escalating on a daily basis, because people are not adhering to what they are supposed to do. They are still partying, travelling between communities, and we still have the illegal crossings from Brazil to Guyana and back," Allicock explained. Moreover, he noted that the flood has exacerbated the spread of the virus given that many persons have been forced to leave their homes and stay with others. In addition to the floods and COVID-19, Region Nine is also battling an upsurge in cases of malaria and dengue. Both diseases are usually prevalent in the region due to mining activities. "We still have to grapple with that as well. We forget about these other diseases and concentrated on COVID alone, but these are still around, so we have to concentrate on everything in a broad spectrum," he said.
Allicock explained that though there is no full-blown outbreak, there has been some amount of upsurge in the prevalence of cases.
"During the early part of the flooding, we had some dengue where even some of my staff in my office had dengue. The minister said it's not an outbreak, but we did get an upsurge in a couple of cases within all of the sub districts. Two weeks ago we had 208 malaria cases for the year, so malaria is still around because of the mining in the Marudi area, but most of the malaria are [sic]imported into the villages or into the township, because people come with it," he further explained.
Bur notwithstanding the health issues, the chairman said that the Regional Health Office has a strategic plan in place to deal with these issues.
"Our team is working around the clock," he said