THE Rotary Club of Garden City (Georgetown), in collaboration with Rotary District 7030, on Saturday, launched the "Green Drive" Shade House Vegetable Garden and Mini Fruit Farm at Cheshire Home, Unity Village, Mahaica, East Coast Demerara.
The Cheshire Home, which was established in 1972, is a non-governmental organisation that serves as a residence for various persons with disabilities, and is managed by a committee of volunteers.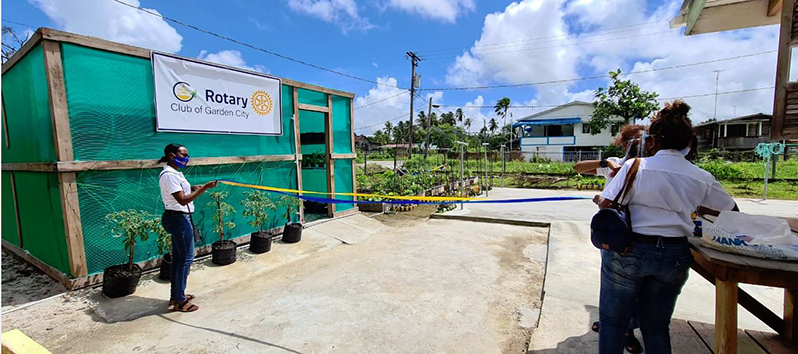 According to a statement released by the Rotary Club, the shade house was established as part of efforts to reduce the "food bill" of the home, while encouraging healthy eating habits of the residents.
The idea, the release stated, is for the residents of the Cheshire Home to experience and appreciate vegetables and fruits from the 'seed to the table', so that they can become "Ambassadors of Eating Healthy". The club's plan is to introduce and the support this type of self-sufficiency to the surrounding environs, which include a nearby domestic violence shelter and children centre.
The project kicked off on February 7, 2021, where residents were involved in a shoe-planting exercise, aimed at exploring germination, and plant growth and evolution.
Since then, Rotarians have made several trips to the Home to clear the land, supervise the construction of the shade house and to plant the first set of leafy vegetables and fruit trees. A drip irrigation system was also installed to simplify things and ensure sustainability of the project.
The club plans to have a phase two to this project, in order to expose kitchen staff to new techniques in cooking, as well as share healthy recipes utilising produce from the garden.
Gardening tools and other garden maintenance items were also donated to the Home.
The project was formally launched on June 5, 2021, to coincide with "World Environment Day 2021."
"We believe this is our small way of contributing to growing trees, 'greening' the community and encouraging healthy eating habits," the statement read.
The funds for this project were sourced through fund raising activities of the club, together with a District Grant. Donations of cash and kind were also received from several friends of the club and one corporate entity, Camex Restaurants Ltd.
The Rotary Club expressed gratitude to persons who contributed, to all whose interest and support contributed towards the success of the project, and expressed optimism for continued support of fundraising activities in future.