Carlston Harris makes historic entrance to UFC
SATURDAY, April 8, 2021, will be a day that Carlston Harris and his family will never forget.  When Harris, who hails from Skeldon, Berbice, walked into the octagon at the UFC APEX in Las Vegas against American, Christian Aguilera,  he became the first Guyanese fighter to feature in the UFC.
However, it didn't stop there; fighting in the welterweight division, Harris (16-4 MMA, 1-0 UFC) choked Aguilera unconscious at the two minutes, 52 seconds (2:52) mark of the first round to become the first fighter from Guyana to win in the UFC. He picked up the win with an anaconda choke, making him just the 19th fighter in UFC history with that finish.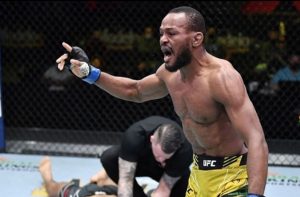 The end came after Aguilera tried to take him down against the fence. The 33-year-old Harris defended the take-down by snapping Aguilera down, locked in the choke, and sat back to put Aguilera out.
With the result, Harris is now on a four-fight winning streak and 9-1 in his past 10 bouts. Prior to joining the UFC, Harris was competing in notable promotions such as Shooto Brazil and Brave FC.
It's been for me to get here and finally, I got the chance to show my skills…I'm here and I made news and made a statement," an ecstatic Harris said in his post-fight interview on ESPN.
In jubilation after his win, Harris hailed his family, and particularly Head-of-State, Dr Irfaan Ali. Later on, Harris said due to UFC protocols, he had to seek written permission from the Government of Guyana to carry the Golden Arrowhead in Las Vegas.
"When I got into martial arts in 2011, this (fighting in the UFC) was my dream. The first time I got into martial arts was the first time I watch BJ Penn and I said I hope one day I get to the UFC, and finally I'm here," the always-smiling Harris said.
Harris describes his win on Saturday as life-changing, not only for him but for his family, adding "I grew up in a poor family; some days we woke up, no meal to eat. Go to school without no meal. I grew up in a single-parent home. My mom, she worked as a maid, so I got into this to change my life and change my family's life."
The Berbician encouraged all athletes in Guyana to "believe in yourself and believe in your dreams. Work towards your dreams and one day it would happen, but you have to believe in yourself." (Rawle Toney)