CLEVELAND James is considered an all-rounder in the village, because he is the "Jack of all trades"– a talented individual, who can do almost anything. He is a resident of Tigerbone Banakari Village and has been living in the village since he was just three months old.
The father of one told the Pepperpot Magazine that he is originally from Kuru Kuru and would often venture into the interior to work as a land dredge operator, and when he is at home, he would burn wood to make charcoal to earn.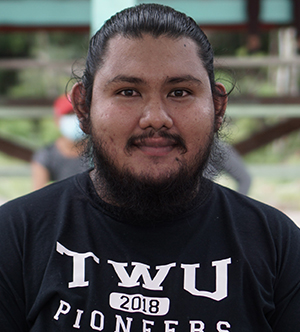 James is also a chainsaw operator and is into wood-cutting and the felling of trees and would take up that job when he can. "I would try to do any job that is available around, because I have a son writing exams, so I want him to be able to access the internet and do well with his school work and also to set a good example as a father," he said.
James stated that he is mobilising the people in the village to establish a Community Policing Group (CPG) and an election of the members will be held on May 23, when volunteers will be elected by the people.
He reported that he has gone into the charcoal business with his brother-in-law at Red Road, Long Creek, and their business was registered in January. "If you want to live a comfortable life, you have to do many jobs to make it and that is my aim," he said.
He is working with the Tigerbone Banakari Heritage Group to have a village signboard erected at the front of the highway, which will identify the name of the village and they had a fundraiser for the $34,000 they have garnered.
James reported that they had a community fundraiser to get money for uniforms for members of the group and they raised $37,000 among the people. He added that nothing will go well if the people are divided and for cooperation to take place, a fresh election should be held for the people to elect members for the Community Development Council (CDC).
Meanwhile, the Pepperpot Magazine also met Joshua Singh, who is self-employed and one day would like to have his own small business of catering. As is, he has a small village shop and the people support his business; as such, he can bring in an income in the home.
He resides down a small trail that goes for miles at Banakari and is also hoping to benefit from a government scholarship. He stated that there is a genuine need for transportation for the people in the community, because many also walk for miles to get to their farms.
The people of Tigerbone Banakari Village
Singh also reported that there are many school-age children in the village and they do not have access to the internet for virtual schooling and for eight years they have been advocating for an ICT hub in the village for all. He added that the project had started, but is stalled due to self-interest since the grants are not being used for their intended purpose.
Singh pointed out that a new election for the CDC body should be held, since it was done without the knowledge of almost the entire village and persons were hand-picked by themselves for the positions, from one family and that is not right. He, like most residents, is calling for an audit of the finances and for an investigation to take place by the authorities, and for immediate transparency of how grants were spent.