The work of the village women
CAMELLA Gomes is 19 years old and is a resident of Tigerbone Banakari Village, located on the Soesdyke/Linden Highway and she is passionate about developing her community and enlisted to become a volunteer.
She is a Community Service Officer (CSO) and one of the members who were instrumental in hosting a village fundraiser to outfit the group with tee-shirts. Gomes told the Pepperpot Magazine that they had no money to host the event which was strictly a take-away service, one where drinks and barbeque were on sale and they had no gathering in keeping with the COVID-19 guidelines.
She stated that a member, Alexandria De Abreu, lent them the money to buy drinks and the chicken and they did the cleaning, clearing and cutting of trees at the front of the village where the event was held. Gomes added that they made a profit of $46,000 from selling beverages and the barbeque chicken and that money will be used to get some tee-shirts for the CSOs.
She related that the first project the CSOs did was the community census, and they did a walkabout in the village where they went from door to door to ascertain the population. They registered 436 persons, including children, after visiting 113 houses.
Gomes has five siblings and collectively they work on their farm, which is located about five miles inland, to earn since they do not have jobs. She needs a place to set up a baker's shop since she is qualified as a baker and is willing to go into the pastry business, on a small scale.
"I have some visions that I would like to come to fruition, but I need a little push and with that I know I will get started because I have the potential to be successful," she said. Her sister is the holder of nine subjects and is unemployed and they also need transportation to get to their farm.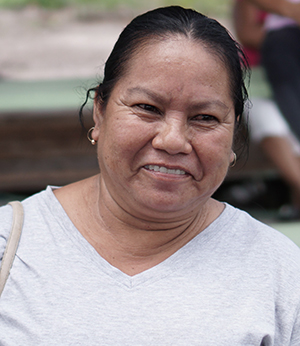 The Pepperpot Magazine also met Sharon Henry, the village cook, who prepares all the Amerindian cuisines whenever there is a function in the community. She has been residing in Tigerbone Banakari since she was 12 years old and today she has three children and is settled.
Henry is a member of the Women's Group and they have a sewing machine but need a place to sew. They intend to make fabric face masks for the entire village, among other charitable projects. Presently, they are making from scratch costumes for the children for the May 26, Independence Parade and flag-raising ceremony, which will be held in the village.
She disclosed that the women's group was founded two months ago and they have a total of 22 members, all from the village and they have been doing things quietly to develop the community. "I am doing my part to contribute to the community and it feels good and I will continue to do whatever I can in the interest of the people," she said.
Meanwhile, Sandra Budhan is also a villager, who is a large-scale farmer and has been living in Tigerbone Banakari since she was 14 years old. The 32-year-old lives one and a half-miles inland through a trail and has a farm of citrus, pear, papaya and kathar.
The mother of one admitted that she is comfortable but the people need electricity, potable water supply and other services that are necessary for their development. Budhan has solar and does most of the work on the farm herself.
She stated that the life of a farmer is simple, they always have food but it entails hard work but she is accustomed to that kind of work. She comes from a long line of farmers in her family.