Dr Safeeya Mohamed started her presentation. She shared why wellness is so important in our lives Keynote speaker in 2019 for INSPIRE YOU at the Pegasus. John Maxwell has influenced both of our lives to be servant leaders.
Dr. Safeeya Mohammed, a well-known keynote speaker, most recently shared "Optimising Digital Well-being in a Pandemic" as the TTCSI designate at Dubai 2020 Talks. Motivated by the overwhelming burdens of ill health and unwellness in the Caribbean, Dr. Mohammed founded SISU Global Wellness, an organisational consultancy aligned to United Nations SDG 3, as the pillars of Resilience and Behaviour.
Clinton Urling is a keen and passionate entrepreneur and mentor. He is the Owner of German's Restaurant (Brooklyn and Georgetown), former President of the Georgetown Chamber Of Commerce & Industry, Vice-Chairman of the Private Sector Commission and President of the Guyana Football Federation. He holds Masters degrees in Foreign Affairs (University of the West Indies) and Sports Management (Columbia University) and is currently a doctoral candidate in Business Administration at the University of Florida
Aka Ali-Kerr is a John Maxwell-certified coach, trainer, and speaker. She shared how we can lead through the lens of care, especially in this challenging time. She shares why books on this subject will be transformational. She has facilitated workshops, seminars, and coaching to aid personal and professional growth through the study and practical application of John's proven leadership methods. Working together, she has moved leaders and their teams in the desired direction to reach their organisational goals. A dynamic Human Resource leader, she has advanced interpersonal skills that have focused on achieving individual and team objectives. Aka has a passion and love for people which has been demonstrated for more than 20 years in developing and implementing best-practice strategies in all spheres of human resource management.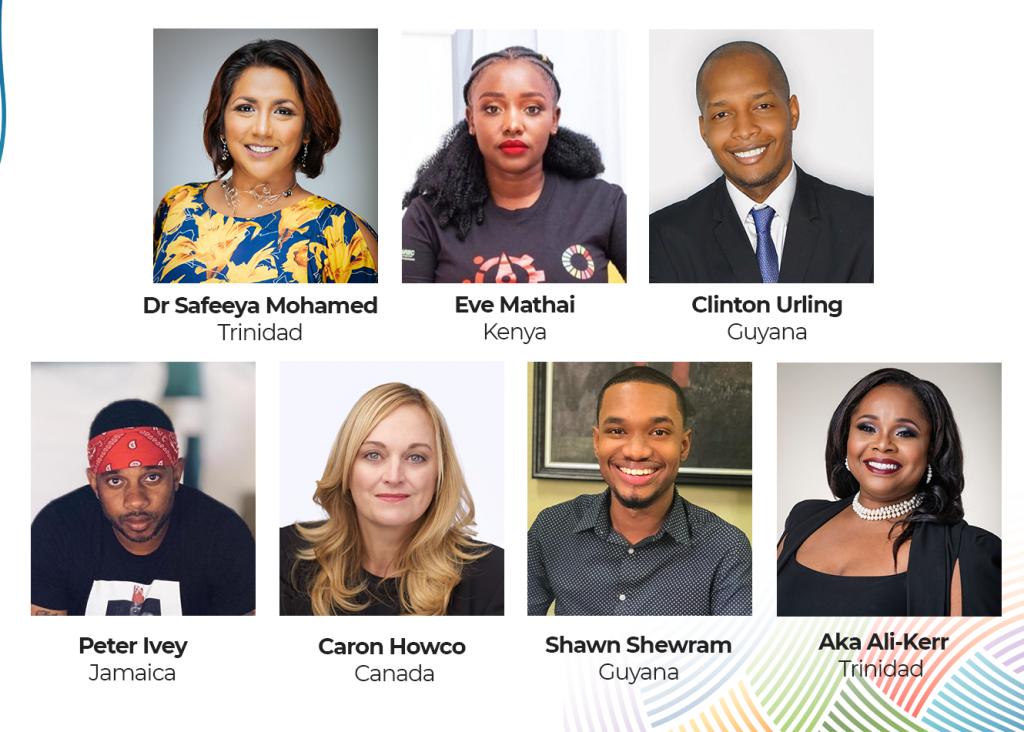 Peter Ivey is an entrepreneur, writer/ author, speaker and food-security activist. I have never met a chef who was passionate about food security. He believes social responsibility must be married to a career and we all should use our skills for good.
Born and raised in Jamaica, he divides his time between the Caribbean island and New York.
As Founder and CEO of The Reggae Chefs®, a culinary services company that uniquely fuses Jamaican food and cultural expression through customised events, Ivey's work as a chef and cultural ambassador of Jamaica has been featured across a variety of platforms, including Forbes and the New York Daily News and has been archived in The National Library of Jamaica.
Caron Hawco and I met a few years ago at the Women in Business Expo and I enjoyed watching her navigate her way in what is perceived to be a man's world. She shared some of the challenges for women in the oil-and-gas industry. Caron Hawco is president of the Caron Hawco Group, specialising in corporate strategy, international business development, communications, negotiations and facilitation. With a diversified portfolio of clients, she has recently focused on opening new markets for technology companies, including Guyana, commercialising cutting-edge ocean technologies, as well as strategic communication and energy-transition projects.
With over 25 years of experience in the petroleum industry, Caron served on Statoil's (now Equinor) Offshore Canada leadership team for over seven years and is the former chair of the Newfoundland and Labrador Oil and Gas Industry Association (Noia).
I appreciated the opportunity for my first live event. Shawn Shewram was the youngest member on the panel and I have a great vision for his life because he is one of the most intentional young men I know. He shared his WHY for having a relentless drive to achieve. Shawn is currently a First-Year Student at the Hugh Wooding Law School. He has recently completed his Bachelor of Law Degree at the University of Guyana, where he was awarded The Pro-Chancellor's Award for the Best Graduating Law Student.
Mr. Shewram is a former student of St. Rose's High School who topped Guyana at the Caribbean Advanced Proficiency Examination (CAPE) in 2017, and he gained the 10th spot nationally at the Caribbean Secondary Education Certificate (CSEC) Examinations in 2015. Mr. Shewram was also the recipient of the CXC Award for the Most Outstanding Business Studies Candidate in the Region and he was the first-ever recipient of the ACCA – CXC Award for outstanding performance in Accounting.
Mr. Shewram works at the Hughes, Fields and Stoby Law Firm.
Eve Mathai from Kenya was super excited to share at this event, but unfortunately could not join us because she was very ill from COVID.
All of the panellists share the common opinion that we need to have more discussions with both genders to deal with the many challenges we are having.
It is an honour to host this event again and from all the feedbacks, this virtual event truly inspired!
You should make an effort to watch the replay on the Sonia Noel Page and the Women and Men Across Borders, as we continue to celebrate this beautiful journey called life BEYOND THE RUNWAY.