– Veteran kite maker urges
By Elvin Carl Croker
Veteran kite maker Maurice Prince believes this Easter provides the ripe opportunity for the public to release and free up from the tension that COVID-19 brought.
"De people looking fa a lil break, we deh under tension wid dis COVID," he exclaimed when the Pepperpot Magazine visited him at his Camp Street location.
Prince and his wife Beverly were busy applying finishing touches to a row of neatly stacked kites which were arraigned in a canter truck in which they were seated. Also in the canter were kites of all imaginable colours everywhere, some hanging from the ceiling, some in boxes and yet others hanging on the canter wall and others occupying almost the entire floor space in the truck.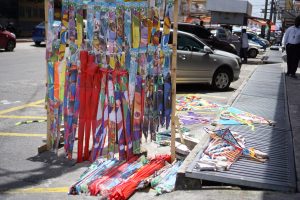 Prince, a father of six and grandfather of two, has been plying his trade for the past 38 years on the pavement of Camp Street between Regent and Robb Street.
Unlike some other businesses Prince said business for him is bright despite the COVID-19 pandemic and he anticipates it getting better, coming up to Easter day.
In sharing his opinion on the challenges faced by the COVID-19 regulations, he related that it was hard for him last year but things are looking better this year.
"Well, is de same kinda meditation but only now you got to study that when you come out for sale. If you in gon got a problem, or you gon got a problem with according to de COVID and thing wah going on," he said.
Prince, 63, related that every Easter he and his wife Beverly would come out to the spot early in the morning and display their colourful kites of varied sizes and colours on a wooden rack on the pavement.
Speaking from his canter truck parked in the corner, he related that he has been operating from the said spot for the past 38 years.
Addressing the question of why some persons wait until the last day to shop for kites, he explained that some people choose to do so because the children would break it up before Easter day. "Most people waiting till like Sunday then they might come and buy," he related.
Reminiscing on the experience last year, he related that persons might not want to buy early also because last year they could not fly their kites on the seawall.
"Remember now, most of the people said they don't want to buy kite because they chasing you off the sea wall,  so some people say it in make sense," he said in explaining persons' reaction to last year's experience.
But he said that this year it appears that it will be much different because people are more aware of the measures regarding taking care of themselves. "This year it gon be much more different because they gon apply the same kinda safety measures they learn while indoors… You know you got to go and put on yo mask, protect yourself and others around you," he related.
Kite making
Prince who is of the Rastafari culture explained that he was inspired to get into kite making after he lost his job at the Demerara Tobacco Company.
"After realising that I had children to feed I had to find something to do to sustain us," he said.
He said he felt that with working with people there is always a possibility of losing your job so he decided to work for himself. "So I look into my own meditation and said I will make some kite,"he said
He also does painting and sculptures.
The preparation for kite making normally begins in August but for this season he related that he began in December because of the uncertainty with COVID-19.
With the assistance of his wife, Prince makes over 300 kites in sizes of 18 inches, 4 feet, 3 feet and 2 and a half feet.
He proudly boasts that all the kites he makes are uniquely designed with a colourful star in the middle.
These colours he explained, are created by him buying white bond paper and spray it with various colours of spray paint.
The process of making a kite, he explained is very time consuming, noting that one kite takes about 20 minutes to make.
In responding to his ability to supply in large quantity if approached by a company, he said he was never approached by any company but is confident he can satisfy any such request.
Prince who is also a sculptor and an artist said he had donated many of his works to former president David Granger and current opposition leader Joseph Harmon.
Prince believes while restrictions due to COVID-19 regulations affected business last year, this year is turning out to be a better one for business since the restrictions are not as stringent as last year.