DESPITE the COVID-19 pandemic and a half-year elections debacle, Guyana's economy still managed to grow by 43.5 per cent, albeit lower than previously expected. More strikingly, the non-oil economy is estimated to have contracted by 7.3 per cent. In spite of this, the People's Progressive Party/ Civic (PPP/C) Government still managed to craft the largest budget of the country's history. The $383.1 billion 2021 Budget was presented at the Arthur Chung Conference Centre, which served as the temporary venue for the sitting of the National Assembly, owing to the pandemic.
The "transformational" financial plan was presented by Senior Minister in the Office of the President, Dr. Ashni Singh. Budget 2021, according to the minister, set out a plan for recovery, outlined policies to catalyse rapid economic growth in the near and medium term, and laid the foundation needed to ensure that growth is not transitory but sustainable for the longer-term. To this end, the local economy is projected to grow another 20.9 per cent this year.
HOUSEHOLD BENEFITS
* Zero VAT on basic food items and household necessities
* Five per cent reduction in water tariffs across the board
* Zero-Rating certain construction materials
* Increase of low income housing loans from $8 million to $10 million
* Increase ceiling on loans offered by New Building Society from $12 million to $15 million
* Introduction of a cash grant of $15,000 per child to be given to the parents of children in the nursery, primary, and secondary schools in the public school system
* Increase in Old Age Pension from $20,500 to $25,000 effective January 1, 2021
* Increase in Public Assistance payment from $9,000 to $12,000 monthly
AGRICULTURE AND FOOD SECURITY
* $2 billion for critical capital works at GuySuCo
* $12 billion for improved drainage and irrigation infrastructure
* $832 million for development of local agro-processing/packaging facilities, specifically in Lesbeholden, Parika, Sophia, St. Ignatius, Aranaputa, Kara Kara and the intermediate Savannahs
* $1.3 billion for the rice sector
* •$1.2 billion to support the operations of National Agricultural Research and Extension Institute (NAREI)
* •$70 million to support Coconut industry
* •$293 million earmarked for the New Guyana Marketing Corporation
* •$806 million will go towards the livestock industry
* •$293 million for Fisheries and Aquaculture
* •$500 million for Soya Bean and Corn production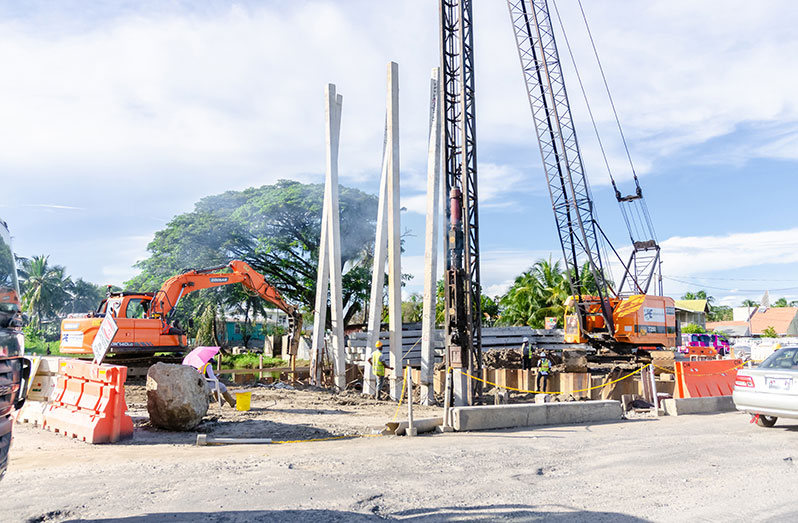 SUSTAINABLE TOURISM
* $185 million for the construction of a Hospitality Tourism Training Institute
* Investments towards improving domestic tourism via regional bodies
INFORMATION AND COMMUNICATION TECHNOLOGY
* $360 million to establish the Universality Fund
* $67 million to rehabilitate Linden venue for the establishment of a call centre
SMALL BUSINESS SUPPORT AND INDUSTRIAL DEVELOPMENT
* $250 million to replenish the Small Business Development Fund.
* $135 million to procure Electronic Single Window System
* $200 million to the National Quality Infrastructure Project including the construction of a state-of-the-art laboratory.
* Commencement of work on the Wales Development Authority (WDA)
* Establishment of a National Entrepreneurship and Innovation Council
ENERGY EXPANSION AND DIVERSIFICATION
* $2 billion to continue clearing the stock of receivable arrears inherited at the Guyana Power and Light
* $840 million to develop solar farms and hydro plants
* $700 million to install 10 mini-grids and four off-grid systems
* US$135 million to pursue renewable energy projects
ROADS AND BRIDGES
* $3.5 billion for the commencement of the Linden to Mabura Hill Road
* $150 million for sectional rehabilitation of the Linden – Soesdyke Highway
* $1 billion to continue and complete a four-lane highway from Eccles to Mandela Avenue
* $9 billion under the miscellaneous and other roads programme
* $2.1 billion to upgrade hinterland roads
AIR TRANSPORT
* $2.5 billion to finance additional modernisation efforts at the Cheddi Jagan International Airport
* $415 million to complete, upgrade and rehabilitate a number of hinterland airstrips
* $150 million to construct a new administration block at Timehri
* $187 million for the Civil Aviation Authority to upgrade the Timehri Control Tower, as well as procure a Safety Data Collection and Processing System
RIVER AND MARITIME TRANSPORT
* $310 million to upgrade and rehabilitate stellings including at Wakenaam and Fort Island.
* $1.2 billion to rehabilitate the Morawhanna, Kumaka, and Port Kaituma stellings
* $500 million to rehabilitate the M.V. Malali, M.V. Makouria and M.V. Kimbia.
SEA AND RIVER DEFENCE
* $5.1 billion to further strengthen our sea and river defence infrastructure in areas including Dantzig, Prospect, Content, Fairfield, Zealand, Cane Garden, Uitvlugt, Anna Catherina, No. 63 Beach, Manila, and Bygeval
* $50 million to construct geotextile rubble groynes, and to conduct topographic surveys
HEALTH
* 1. $1.8 B to purchase critical medical equipment
* 2. $322M for the acquisition of medical equipment
* 3. $99.8M for re-equipping the ophthalmology hospital in Port Mourant
* 4. $750M to support the rolling out of COVID-19 vaccines
* 5. $900M for HIV services
* 6. $96M to support and improve mental health services
* 7. $2.8B to modernise and expand infrastructure
EDUCATION
* $5.2B for construction, rehabilitation and maintenance of education facilities nationwide
* $3.3B to finance operations at the University of Guyana
* $884M allocated to equip and retool technical and vocational training centres.
* $1B budgeted to support the online scholarships to be granted in 2021
HOUSING AND WATER
* $6 billion to advance infrastructure and utility works in new and existing housing areas
* $1.5 billion to continue infrastructure works in Sophia, Victoria, Diamond and the Parfaite Harmonie housing areas
* Projected allocation of 10,000 house lots
* Distribution of 7000 land titles across the country
* Provision of subsidies to low-income households
* Construction of 1,000 homes for low income earners and young professionals
* $4 billion to procure equipment and improve and expand water supply networks countrywide.
* $200 million to expand Sophia, Eccles, Covent Garden, Grove, Friendship and Vergenoegen water treatment plants to benefit over 50,000 residents
* $275 million to procure and install 20,000 water meters for residential and business areas across the country.
* $100 million to procure electro-mechanical equipment for the rehabilitation of water production facilities.
* Upgrade of transmission mains between Church and Cummings Street, Cemetery Road to Mandela which will benefit over 35,000 residents
* $1.1 billion for Solid Waste Management , including the completion of the construction of Cell II at Haags Bosch Sanitary Landfill Site and the upgrading of disposal sites at Rose Hall, Port Kaituma, Belle Vue, Lethem, Lima, Charity, Lusignan and D'Edward. The preparation of temporary locations for waste disposal in Regions 2, 3 and 5 was also catered for.
CULTURE, YOUTH AND SPORT
* $90 million to expand the Youth Innovation Programme of Guyana
* $820 million towards the Youth Entrepreneurship and Apprenticeship Programme
* Over $85 million to deliver youth-targetted training
* Over $85 million to deliver youth-targetted training
* $30 million for grants to the cultural and creative industries
* Over $120 million for capital works on culture facilities and sites
* $915.5 million to improve community grounds
* $618 million to host tournaments, maintain sports facilities, and support select sports associations, along with establishing a "Sports Academy" programme.
AMERINDIAN AND HINTERLAND DEVELOPMENT
* $630 million to expedite the granting of titles to Amerindian villages
* $196.6 million for boats, engines and equipment to empower communities and improve their livelihood
* $1.75 billion for the hinterland roads programme to enhance connectivity
* 196 scholarships for hinterland students
* Removal of VAT on Hinterland travels
LOCAL GOVERNMENT
* $552 million to strengthen the Local Development Organs across the 70 Neighbourhood Democratic Councils and 10 Municipalities
* $1.1 billion for community enhancement workers
* $172 million for capacity building
PUBLIC SAFETY AND SECURITY
* $95 million has been allocated to help those Groups strengthen neighbourhood patrols and visibility
* $830 million for the construction, rehabilitation, and maintenance of police stations
* $50 million to train inmates in the areas of anger management, literacy, agriculture, and culinary arts
* $5 billion earmarked for the Prison Service
* Guyana Fire Service will receive $1.9 billion to facilitate major projects such as the relocation of the Central Fire Station at the congested Stabroek Market, and the construction of a new Fire Station at Eccles. Additionally, six water tenders and two ambulances will be procured.
EXTRACTIVE INDUSTRIES
* Improved Petroleum legislations
* Continued efforts to enact a strong local content policy
* Creation of a policy framework for bauxite development
* Identification of 10 acre plots for sand mining
* $250 million for the implementation of the second phase of the National Forest Inventory programme