TWO one-stop child advocacy centres for the reporting of child sexual abuse and the 'treatment' of the victims will be opened, next Saturday, in Region Six (East Berbice/Corentyne) by Minister of Human Services and Social Security, Dr. Vindhya Persaud. The 'establishment' of the centres is being done in conjunction with Child Link and United Nations Population Fund (UNFPA), through the Child Care and Protection Agency. One of the centres will be opened at Whim and the other at Springlands, the minister announced on Friday last during her visit to the region. Dr. Persaud took her latest community outreach programme to Albion to address issues affecting residents, as the Administration continues to conduct robust public engagements aimed at creating linkages between the people and Central Government.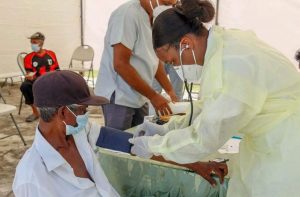 It was at the opening of this meeting that Minister Persaud spoke about issues related to child abuse and domestic violence and how they will be tackled through the ministry's 914 hotline, the Spotlight Initiative, an anti-violence campaign, and the Survivors Advocates Programme. She informed those present that the programmes outlined would be executed in partnership with non-governmental organisations and added that the ministry was also working with the religious community in order to provide counselling to persons, as well as to identify vulnerable populations within communities to provide them with the necessary support.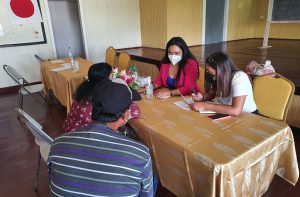 Addressing residents at the Albion Community Centre Ground, Dr. Persaud said the aim of the outreaches was to ensure that the public has access to key services being offered by the State. "From where I sit, I would like to ensure that our systems from the ministry function efficiently and effectively. So this gives us an opportunity to assess the performance of our officers across the country because from people you get feedback – Did you go to the office? Were you given a hard time? Did you have a run around? – so that we can fix those things because you're only as good as the way you serve people," Dr. Persaud said.
She noted that some of the major challenges facing Region Six and several other areas across the country included the lack of sufficient human and other resources to deal with issues of child abuse, domestic violence, pensions and public assistance. Friday's exercise addressed issues including pension and public assistance, difficult circumstances cases, elderly and child welfare, and youth social issues. Persons also benefitted from eye and dental care, counselling and HIV, blood pressure and sugar testing. A new group of young influencers attached to the ministry also engaged young people on peer pressure, cyberbullying, and mental health issues.