— as it continues major seawall clean-up works
SEAWALLS and Beyond, a local group of about 12 individuals responsible for remarkable changes along the Kingston Seawall, will soon be embarking upon a project to formalise the group into one that fits in with the legal framework of organisations in Guyana. "And we are likely to head in the direction of becoming registered under the Friendly Societies as a charity involved in environmental activities," Group Coordinator, Dwayne Hackett told the Guyana Chronicle on Friday. In the months since its beginning in July 2020, the group has been making a significant impact so far as cleaning up and beautifying the seawall area is concerned. "I personally am very overwhelmed by what we've been able to achieve and the sort of impact we've made. Who would have thought that just a small effort in assisting someone in a clean-up would grow into something that has national and international reach?" Hackett expressed.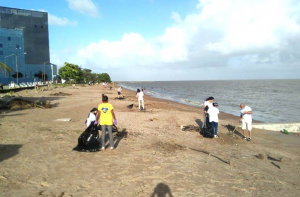 Seawalls and Beyond has moved from being just a cleanup crew to a group of advocates pushing for changes and improvements in existing systems.
"We like to use our social media platform to advocate and educate and we have been doing a lot of research in environmental care along the coastland. We found that a lot goes back to the issue of beautification and waste management issues," Hackett shared.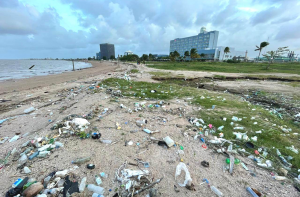 Ocean trash has been found to be the biggest problem the group is working with and trying to highlight. "In our country, we have a serious problem of waste management… where people dispose of their garbage in waterways." So far, he said the group has gained the attention of several persons of influence who have reached out to them and expressed their desire to partner in caring for environmental, social and corporate responsibilities. Hackett noted that the group is in the process of documenting all of its work and putting it into a format that is required by policy makers and experts in the field of environment. "We're just a citizen group doing more than we say, but we do understand the importance of advocacy. Tomorrow (January 30), we will have another activity on the Kingston beach." Meanwhile, the whole initiative started when just one homeless man, Carl Melville, decided to start cleaning the seawall on his own one day. A few days later, Hackett noticed his efforts and joined him in cleaning. More persons started to join the effort and before long, the group grew to the point where it gained the attention of other persons and businesses, even First Lady Arya Ali who has provided assistance to the work of the group. The volunteers are supported by dozens of other Guyanese who turn out mainly on the weekends to lend a helping hand towards getting the area cleaned. The workers all volunteer their time, energy and resources because they especially love the seawall space and are frequent visitors for recreation and exercise purposes. They feel strongly about the need for the area to not only be cleaned, but restored to its pristine state.