-Dr. Anthony says West Dem., Bartica hospitals to also benefit
By: Indrawattie Natram
THE Ministry of Health and the Government of India are currently working together to enhance the Suddie Public Hospital in Region Two. This announcement was made by Minister of Health, Dr. Frank Anthony, on Saturday during an interview with members of the media. Dr. Anthony disclosed that the ministry has positive plans for the region which include a multi-million dollar project aimed at enhancing the Region Two healthcare facility. He said the ministry is working with the Indian government to finalize the documents relating to the project and as soon as that is streamlined, a team of engineers from India will visit Guyana to work on the design. "The People's Progressive Party Civic had mentioned in its manifesto a provision for essential primary and secondary services in the Health Sector as well as enriching the lives of all Guyanese in the process. We have big plans for the Pomeroon-Supenaam region and that is one of it," Dr. Anthony said.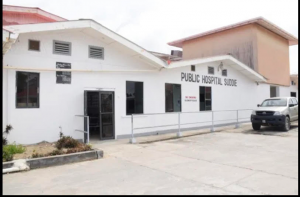 The Health Minister explained that the Suddie Hospital project is one of three to be executed with the US$18M funding provided by the Indian government. Similar projects will be executed at the West Demerara Regional Hospital and the Bartica Regional Hospital. Dr. Anthony used the occasion to thank the Region One Regional Democratic Council (RDC) for its continued support in strengthening the healthcare system within the region. He also thanked the Regional COVID-19 Task Force for continuously monitoring the positive cases in the region. Meanwhile, Regional Chairperson Vilma De Silva extended gratitude to the Government of India, as well as the Ministry for their continued support to the region. De Silva said the RDC is working vigorously to ensure that healthcare services are made available to the people of Region Two by providing the necessary resources for projects.
She reminded that the PPP/C under President Irfaan Ali's leadership is a caring government. Residents in the Pomeroon-Supenaam can look forward to tremendous improvements in all sectors, she added. The Regional Health Officer, Dr. Ranjeev Singh, also expressed appreciation for the project. He informed that the Suddie Public Hospital provides services to thousands of persons from the Essequibo Coast, neighbouring islands, and Region One. Dr. Singh also mentioned that over the years the hospital had been deteriorating and as such he was happy that the Indian government and the Ministry of Health have recognised the need for enhancement.