RHTY&SC teams donate to BCB, UCCA
The Berbice Cricket Board (BCB) and their plans to develop their clubs, players and teams continued recently as donations continued to pour in.
The gifts were compliments of the ten cricket teams of the club under their massive cricket development programme which seeks to assist other clubs to reach the standards of the RHTYSC.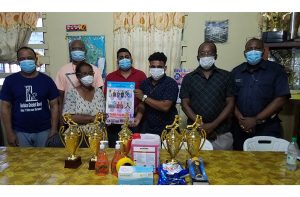 The teams are Poonai Pharmacy Under 12 and Under 13, Farfan and Mendes Under 15, Bakewell Under 17 and Second Division, Pepsi Under 19 and Intermediate, Namilco Thunderbolt Flour Under 21 and First Division,Metro Females . The teams also handed over a donation to the Upper Corentyne Cricket Association.
The BCB received five cricket trophies, stationery, cleaning detergents, security equipment and a set of COVID-19 protective items.
The Upper Corentyne Cricket Association, the most vibrant sub association in Guyana received five trophies, box of balls, educational posters and COVID-19 protective items including face masks, face shields and hand sanitizers. The club also handed over four school bags and educational materials to the family of an injured cricketer of No72 Village. The player was badly injured in a fight and Foster, in his capacity as president of the Berbice Cricket Board, had committed himself to assisting the family with food hampers, a cricket bat and educational materials. All of the commitments have been fulfilled. BCB Secretary/CEO Angela Haniff expressed gratitude to the RHTYSC for the timely assistance while UCCA Vice President Sydney Jackman hailed the club as a true friend of the sub association.