MINISTER of Public Works, Juan Edghill, has questioned the suitability of opposition Member of Parliament David Patterson to head the National Assembly's Public Accounts Committee (PAC), which is responsible for scrutinising the mismanagement of public funds.
Edghill drew irony from the fact that Patterson is currently at the centre of revelations that suggest malpractices occurred at the state-owned asphalt plant, which falls under the purview of the Demerara Harbour Bridge Corporation (DHBC).
Reputable on-line news agency Demerara Waves reported on Sunday night that authorities had uncovered records showing that the agency had expended more than GYD$500,000 of taxpayers' dollars on the purchase of a wristband and tie pin for Patterson's birthday in 2017. At that time, Patterson was the Minister of Public Infrastructure with responsibility for both the asphalt plant and the DHBC.
Minister Edghill ahead of Monday's PAC meeting opined that the committee should not be headed by "someone who is under scrutiny and who has not yet been cleared by way of an investigation." Patterson chaired most of this week's PAC meetings but recused himself when the 2016 Public Infrastructure reports came up for scrutiny.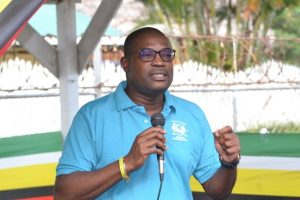 The on-line news house reported that it made contact with Patterson, who used a few expletives and insisted that he never received the incredibly generous gifts, and that the allegations are an attempt to "besmirch" his character. The A Partnership for National Unity + Alliance For Change (APNU+AFC) Member of Parliament maintained too that he never instructed or ordered the purchase of the half a million dollars in gifts.
Meanwhile, accompanying the explosive article were payment vouchers detailing the transaction. The documents outlined that the band, engraved with the words, 'for Minister Patterson,' was valued at GYD$424, 700, while the tie pin was GYD$76, 300. From the paper trail, it is apparent that the entire purchase process was done just in time for Patterson's birthday.
The article also quoted former Chairman of the DHBC Shabir Hussain as saying that he does not recall the transaction, but is confident that had it been brought to him, the request for purchase would have been met with rejection. Several efforts to contact Patterson for a comment proved futile.
The recent probe into the asphalt plant has revealed gross mismanagement, as well as an apparent fondness for jewellery. Investigations into the plant had found that General Manager of the DHBC, Rawlston Adams, had approved the purchase of an $897,000 wristband for himself as a gift from the company on International Men's Day 2019. In the report, the investigative team facilitated responses from the DHBC on all of the findings, and in addressing concerns surrounding the very generous purchase, the company said that gift-giving was customary at the organisation, and that "Gifts were also given to all other men within the corporation." However, the gift purchases for all of the other men were valued at approximately only $10,000 each.