–being sustained through $20M E-agriculture project
AGRICULTURE has been the engine of growth for many economies, including Guyana's, for centuries, but just as butter complements bread, and forms a solid combination, the injection of Information and Communication Technology (ICT) into agriculture could open the door to endless possibilities for this ancient economic activity.
With the hope of unlocking this door, and tapping the plethora of opportunities therein, Triple-C Consultancy Group has created a digital platform through which it aims to create a sustainable and lucrative linkage between ICT and agriculture.
"We have developed a platform built on E-services, so it incorporates E-agriculture, mobile extension services, and artificial intelligence… These three, when combined, builds an e-services platform for agriculture, where you can have live interaction, Online and Offline services, mobile applications, technical services and so on," Founder of Triple-C Consultancy, Dr. Bissasar Chintamanie said during a recent interview with the Guyana Chronicle. This US$100,000 (G$20M) platform can be accessed through the company's website, under the tab, "agro advisory services".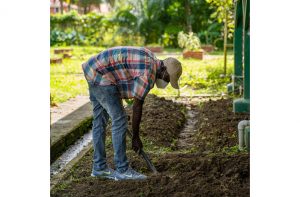 According to the Food and Agriculture Organisation of the United Nations (FAO), ICT has always mattered in agriculture. Ever since people have grown crops, raised livestock, and caught fish, they have sought information from one another.
The FAO believes that ICT represents a tremendous opportunity for rural populations to improve productivity, enhance food and nutrition security, access markets, and find employment opportunities in a revitalised sector.
ICT has unleashed incredible potential to improve agriculture, and it has found a foothold even in poor small-holder farms.
Guyana has been late in implementing ICT-driven initiatives over the years, but with the need for innovation being greater now more than ever, because of the country's fledgling oil-and-gas sector, Triple-C Consultancy plans on filling the void through its new platform, which has already been launched in Region 10 (Upper Demerara-Berbice).
"We decided to launch it in Region 10, because it was observed that this region has not been self-sufficient in most of the agricultural commodities, and has been importing products from other regions and other countries," Dr. Chintamanie said.
Considering this gap, and the region's evident potential, the investor thought it best to launch the e-services platform, and a sustainable agricultural project there to catalyse growth, and encourage persons to get involved.
"Because the potential is so high, I thought of using it as a platform for launching the programme, and encouraging the youths in Region 10 to get involved, because we need to lift the bar and achieve self-sufficiency, and produce for the neighbouring regions," Dr. Chintamanie reasoned.
NEW CHANCES
Outside of the existing opportunities, the proposed road from Linden to Lethem will create new chances, which persons from Region 10 will have to position themselves to capitalise on. And, Dr. Chintamanie sees his project being a mode of preparation, and a conduit for progression.
Following consultations with the Regional Democratic Council (RDC) of Region Ten, which immediately bought into Triple-C's plan, the team recruited participants from ten different areas in the region. The 10 participants have been given the necessary tools, including smartphones and 'tablets', loaded with the necessary applications and software.
"Those participants were trained to use the software and platform, and went through two weeks of technical training in agriculture… One issue we have is that people have been jumping into sophisticated agriculture, and not being aware of basic agriculture. So they need to understand the basics," Dr. Chintamanie reasoned, adding that growth must be gradual.
It is for this reason that Triple-C administered a two-week training programme on basic agriculture, and provided technical material Online. The programme has been set up in such a way that participants would have access to 15 technical experts on a 24-hour basis.
The long-term plan is to recruit at least 500 agricultural advocates from this region, and equip them with the knowledge and skills to advance agriculture.
Not only will those participants have technical and theoretical training, but they will also have opportunities to visit farms and other agricultural operations across the country.
The initial ten participants would have already visited and analysed some operations in Region Six (East Berbice-Corentyne), Dr. Chintamanie said, noting that there is more in store for them when the programme, which took a break for the holiday, resumes in about two weeks.
As it is now, the progamme is solely private sector-driven, but the Triple-C founder said his team is engaging the Ministry of Agriculture, with the hope of forming a private-public partnership.
Triple-C Consultancy already provides advice to government agencies, climate authorities, institutions and private sector clients in the fields of environment, water, agriculture, economics and communities. The company also provides policy, planning design and technical consulting services, to ensure a healthy future for the environment, industry and communities by helping them to plan and implement change. The company's high-brand equity is propelled by reliable and efficient services, which have resulted in fundamental partnerships with private sector, governments and NGOs both here and overseas.