FIFTY residents of flood-hit Charity, in Region Two (Pomeroon-Supenaam), last Thursday, received food hampers and cleaning supplies from the Guyana Bank for Trade and Industry Limited (GBTI). Acting Chief Executive Officer, James Foster, headed the distribution team which included Public Relations and Marketing Manager, Pamela Binda, as well as Tage Ahlam and Romario Persaud, who are attached to the bank's Anna Regina branch.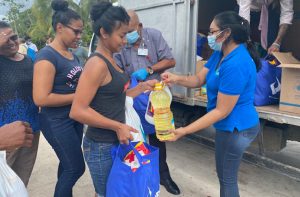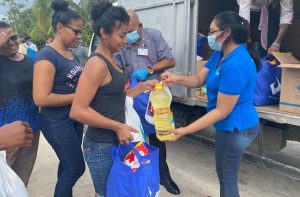 Foster remarked that after reading about the flooding in the media, he felt compelled to help. He said having walked through the streets of Charity, he has noticed that the need is greater than anticipated. He informed that GBTI will continue to follow the situation in anticipation of providing more assistance. Meanwhile, Binda expressed similar views. She said given that it has a branch in the region, the bank saw it fitting to assist. She noted that the bank has always given back to various communities, especially those in need. This, she said, is all part of exemplifying the bank's tagline – "We see Guyana through your eyes."
Several of the beneficiaries expressed gratitude to the bank for the kind gesture. Monique Edwards, a mother of seven who lives in the squatting area, said she was happy to receive the hamper as it has come at a time when her family is in dire circumstances. Her land has been under floodwater for many days and her husband is currently unemployed. Another beneficiary, Gloria Persaud, who also lives in the squatting area, expressed similar sentiments, saying that the groceries will go a long way for her family.
The squatting area has been most affected as it is a low-lying area. Households in the front area also benefited from the distribution exercise. Before Foster and his team commenced the distribution, they met with regional officials and several areas of interest were discussed. Foster spoke with Regional Chairperson, Vilma De Silva; Regional Vice Chairman, Humace Odit; and Regional Executive Officer (REO) Devanand Ramdatt, on ways in which the bank could partner with the region.