-17-year-old's 'sweet spot' dessert business takes flight
By Mesha Sealey
OF course, it's not what you'd traditionally expect when picturing the rich dessert. In fact, while many find the idea quite peculiar, a 17-year-old from Farm, East Bank Demerara (EBD) has committed to making this sweet treat a business venture.
2020 saw a series of small businesses and services blossoming in an attempt by persons to stay afloat during the pandemic. One of these is 'The Sweet Spot', a dessert business owned and managed by Kayleen Smith.
"Growing up in Guyana I observed that gourmet desserts are usually only found at hotels and fine dining restaurants, and for some, only when they travelled. So my aim was to make these desserts available for all to indulge, in the comfort of their own homes at a reasonable price," Smith said.
One of her peers who had tasted Smith's creation said: "I must say I find it to be a wonderful venture, especially on Kayleen's behalf. Reason being, I've known her since High School, and since then she's had this passion for baking."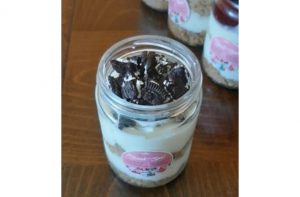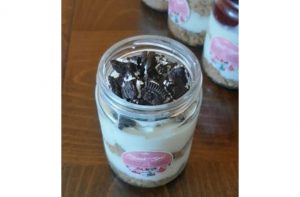 "Overall, she's great at what she does," the customer added.
Baking and pastry making has always been a passion of Smith's, from the time she was thirteen years old.
"I've always dreamt of opening a business to share my creations with others, but pre-COVID, I was unable to find the time since I'm a student of the University of Guyana studying for a Bachelor's Degree in Environmental Health," Smith explained.
The advent of the COVID-19 pandemic which brought with it a host of adversities, gave Smith the free time she needed to get herself on her feet.
"The most important thing for me during the startup phase was perfecting my cheesecake recipes. So I dedicated a lot of time into trying various combinations and techniques until I got the recipe that was just right. Next was to work on the brand image, so I had to consult a designer for my labels, fliers and also get the package that would complement each individual dessert," Smith related, in a recent interview with the Chronicle.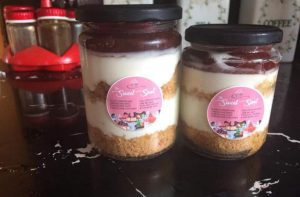 "During this time, I took the opportunity to see what my competitors were offering, because I wanted to be unique— even if it was the exact desserts. It was important that the items on my menu stand out from others, so this is why I came up with four different styles of cheesecake, including one of our customer favorites, 'Cheesecake Jars'. The final step was to start putting my fliers and logos on all my social media platforms to let everyone know that something big was coming."
And coming it was. When 'The Sweet Spot' launched its online service on August 2,, 2020, the orders poured in, according to Smith.
"It continued like that for the week, and then it slowed down. Of course, we had high points and low points, but business was going good," she said.
When asked to leave a comment for those now starting their own business ventures, Smith said this: "For those who have already started, just realise you have completed the most important task, that's pushing down the most important barriers which are fear and intimidation.
The next step is to focus on your 'why'. For those who are now planning to get into a business, I can tell you that being your own boss and being able to control your daily activities is a very satisfying feeling and the goal of financial freedom should be everyone's dream. Being your own boss will take you closer to that," Smith advises.
Kayleen is described as a somewhat outgoing introvert, with a warm, fun personality.
"She's understanding, patient and hardworking," says Asheriea Isaacs, a former schoolmate of the young entrepreneur. "When around her, you can rest assured that a laugh or two, or even more is nearby," Isaacs added. "To all my customers, I'd like to say thank you for trusting and encouraging a 17-year-old's dream," Smith said before adding: "My growth and development at 'the Sweet Spot' has been largely because of you." 'The Sweet Spot' also serves cookies, brownies, cupcakes and decorated cakes for all occasions. They are available for delivery or pickup, once orders have been placed beforehand. They can be found on Facebook and Instagram at @thesweetspot.gy, or contacted can be made through WhatsApp at +592-697-9993.