THE Guyana Defence Force (GDF) Coast Guard and their US counterparts will on Saturday engage in the first of a series of joint exercises as part of the operationalisation of the Shiprider Agreement ratified by the two countries in 2020.
The Shiprider Agreement will enable joint maritime and airspace patrols to interdict narcotics and illegal activities.
It will provide mechanisms to streamline communications between law enforcement officials of Guyana and the US to conduct operations at sea, and expedite overflight clearances for law enforcement aircraft when combating drug trafficking.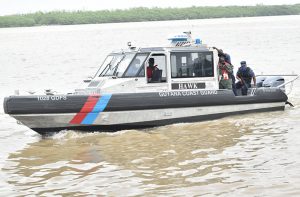 This exercise will take place off the coast of Guyana, and will focus mainly on Illegal, Unreported and Unregulated fishing (IUU).
It will be conducted in collaboration with the U.S. Coast Guard Cutter Stone vessel, which is currently in the region for a multi-country tour.
The US Coast Guard has noted in a statement that of the world's top marine fish stocks, 93 per cent is classified as fully exploited, overexploited, or significantly depleted. IUU fishing undermines the sustainable management of these resources, pushing them to the limits of their capacity.
The vessel's first patrol to South America will see the engagement of partners, including Guyana, Brazil, Uruguay, Argentina, and Portugal.
The Legend-class National Security Cutters are the most technologically-advanced ships in the Coast Guard's fleet. They measure 418 feet (127 meters) long, with a 54-foot beam, and displace 4,500 tonnes with a full load.
They have a top speed of 28 knots, a range of 12,000 miles, an endurance of 60 days, and a crew of around 120.
The ship's namesake is former U.S. Coast Guard, Cmdr. Elmer "Archie" Fowler Stone. On April 10, 1917, he became the Coast Guard's first aviator, upon graduating from flight training at Pensacola, Florida.
In 1919, Stone was one of two pilots to successfully make a transatlantic flight in a U.S. Navy seaplane, NC-4, which landed in Portugal.