USHERING in the New Year on a wonderful note was Mr. James Anderson, popularly known as "Cousin Puppol", a father of eight and grandfather of six, who celebrated his 100th birth anniversary on Friday last in the presence of his immediate relatives and close friends.
Anderson, who hails from Ann's Grove, some 18 or so miles from Georgetown, is now the first male centenarian of this East Coast Demerara village. Born two villages away at Bee Hive, on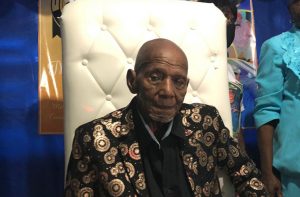 January 1, 1921, he was the second of 10 children, six boys and four girls, but is now the only surviving sibling.
And while he would have spent most of his years in the community of Ann's Grove, he at one time lived at Number 42 Village, on the West Coast Berbice, while working as a cane-cutter. He'd also worked briefly in the rice industry. Mr. Anderson, who has a love for agriculture, had also worked on sea for seven years as a fisherman.
As he disclosed, he never fancied tinned or fried foods much, and he would often eat steamed fish and mullet broth, along with fresh vegetables, which he credits for his good health and longevity.
Outside of his strict diet, Mr. Anderson believes that the way to a long life is to be truthful, as was taught by his late mother.
He is not only grateful for having lived to such a ripe old age, but to also be surrounded by family and friends as he celebrates his birth anniversary.