– K&S promises to make `Jan 1 great again'
NOW that the Guyana Football Federation (GFF) has hit the ground running following their collaboration with the Ministry of Culture, Youth and Sport (MCYS) and the Kashif and Shanghai Organisation,  Federation president Wayne Forde expressed that he was pleased for numerous reasons.
Speaking with the media at the closing ceremony of the Bounce Back Football Classic, he said: "It's not the fact that we have been able to bring back football to the pitch, it's that we were able to prove to ourselves that we can do it under very challenging circumstances and do it well.
So, God willing and the public health situation improves in 2021, I can assure the general public that we will have more events like this with similar quality, and we want to invite the fans and other corporate partners to come onboard and help us deliver football in the best possible way to this nation."
Lightly touching on the performance aspect of the players, Forde stated, "I think everyone was pleasantly surprised with the quality of the games. Clearly, for someone who has a deeper understanding of the game will know that the pace was a bit slow and there were moments you could see the technical ability of the guys a little bit off.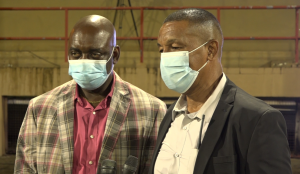 But when you consider most of these players have been inactive in a very structured way for the better part of 10 months and to come out and give this performance, you have to be pleased."
Forde disclosed that he had conversations with his Technical team with regards to the players' abilities, and the team assured that Guyana has something of essence to commence works with.
The Golden Jaguars side is billed to commence training in preparation for the first round of the FIFA World Cup Qatar 2022 which begins in March.
"We are a little bit late with when we would have liked to start our national team preparation, but I think these are very encouraging signs that show while there is a lot ahead of us; we still have something good to work with."
<<K&S roams again…>>
Directors of the Kashif and Shanghai Organisation, which once hosted the most prestigious of football tournaments in the country, which would have been entering its 32nd year, were quite esteemed to be a part of the event.
The more outspoken of the two personalities, Kashif Muhammad said: "I'm extremely happy to know that we are part of this whole collaboration that put this entire tournament together. We were yearning for it for years and Guyana was yearning for it for years also, and now we got the opportunity to come together with the Guyana Football Federation in partnership [with the] Ministry of Culture, Youth and Sports – that's an unbeatable team."
He continued: "We think we delivered in a relatively good way; the broadcast was fantastic. What I was looking at on the Ministry's page was that lots of persons tuned in and I was also satisfied to see that Guyana can output that kind of quality."
"We're happy to be back with this whole programme and once the pandemic eases and there is great control over the pandemic this year, we will be making 'January  1st ' great again in Guyana. We will make it very huge and we hope that football can continue to win.