–discussions in advanced stages
–financial models to be examined soon
By Navendra Seoraj
AS the government pushes ahead with its plan to reduce the cost of energy tremendously through a gas-to-energy project, Minister of Natural Resources, Vickram Bharrat has said that discussions related to this project are in the advanced stages, and several areas are still being considered for the landing of pipes and construction of a massive power plant.
Areas which are being considered by the government include Wales, on the West Bank Demerara (WBD); Vreed-en-Hoop, on the West Coast Demerara (WCD); and Ogle and Mahaica on the East Coast Demerara (ECD).
Wales, in particular, is a site which the government is examining seriously, Minister Bharrat said during a telephone interview with the Sunday Chronicle.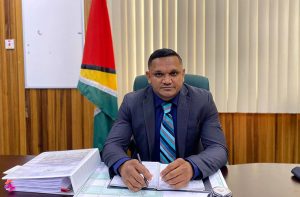 "It is one of the highly possible sites which we are looking at; we are leaning towards it, but we have not made a concrete decision on it as yet," Minister Bharrat said, adding: "The early studies show Ogle, Vreed-en-Hoop, Mahaica and other areas, but, of course, we have to consider a number of factors before we select the site. And that is why we are leaning towards Wales, because it is closer to the population."
Wales, as Minister Bharrat explained, seems like one of the best options right now, because it is closer to the bulk of the population, and it has adequate and readily available land for the gas-to-energy project.
A special task force, established by President Irfaan Ali to assess the feasibility of a gas-to-energy project, has since determined that close to 2,000 acres of land would be needed to construct a power generation facility.
Minister Bharrat, in a previous report, had said that getting natural gas to shore is just one aspect of the project, as authorities also have to identify and acquire adequate space for the establishment of a power plant.
The potential site for a power plant is being considered simultaneously with a location for the landing of pipes, which will run directly from ExxonMobil's operations to a designated area onshore Guyana.
A definitive decision on a location for this project is expected to be announced in two weeks, after which, the government will move ahead with the consideration of feasible financial models, in terms of financing.
"We have some ideas of the costing, but we have to work it through; then we will look at financial models," Minister Bharrat said, adding that the aim for completion remains 2023.
This project forms a major part of the new People's Progressive Party/Civic (PPP/C) government's plan to reduce the cost of energy by 50 per cent through an energy mix, which includes the conversion of natural gas from ExxonMobil's offshore operations to electricity.
President of ExxonMobil's local operation, Alistair Routledge was reported as saying that about one-fifth of the resources discovered so far in the Stabroek Block contain natural gas, most of which would be associated gas produced with the crude oil.
It is common knowledge that natural gas can be used to generate electricity in a variety of ways, but the local plan is to establish an industrial facility that generates electricity from primary energy, which, in this case, is natural gas.
Contrary to the perception that oil and gas will be detrimental to the environment, the minister believes that gas-to-energy will go a long way in ensuring that there is clean energy, because there will be no more burning of diesel, or 'Bonasika' fuel, which is heavy.
Minister Bharrat assured the Sunday Chronicle that Guyana will have reliable, cleaner and cheaper energy, which will not only benefit households, but also stimulate growth in the manufacturing and commercial sectors.
Guyana is said to have one of the highest costs of power generation in the world, a factor which has discouraged many businesses from investing here.
"With gas-to-energy, we will be able to produce energy at competitive rates, and this will allow us to attract a lot of investors, especially in the manufacturing sector," Minister Bharrat said.
He even envisages the country having one of the largest industrial parks in the Caribbean, with the advent of this project.