Your go-to place for handmade craft
Art for many is not just a paintbrush to canvas. It is a voice for the shy and a form of expression for those who have A hard time expressing their emotions.
Being an introvert, art has helped 19-year-old Ameena Zaman to not only express herself and share her talent with the world but has motivated her into becoming an entrepreneur at the peak of her young adult life. The young woman who is currently perusing studies at the University of Guyana told the Buzz, "I believe the words shy, imaginative and creative describe me well. It was about four years ago while watching a YouTube video that I first heard the quote by Elise de Wolf: 'I'm going to make everything around me beautiful, that will be my life'; since then, I have made it my personal mission statement. I began to change my surroundings, my room, the way I dress, to whatever I considered to be beautiful and artistic, I would smear it everywhere I go, and that's where my journey as an artist began."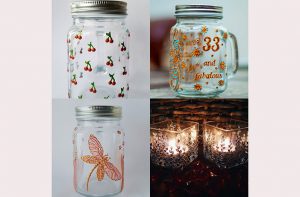 She explained that she first began working with watercolour painting pulling inspiration from the aesthetic of nature, flowers, leaves, vines and animals. Over time, I became better and better, exploring new mediums of art. Zaman told the Buzz that she was working on a piece when from a simple mistake her small business 'The little Art Shop" was birthed.
"One afternoon, I was painting and a bit of paint fell on my glass. I thought it looked quite pretty and so I continued doodling flowers on the cup with my paintbrush and then an idea struck me! I could make these and sell them! Not only would I be selling my art, but it would be in a functional way," the artist said. "I began brainstorming, ideas flowed one after the other. I combined my love for art and aestheticism. Upon what felt like an impulsive decision, I went out the next day with a friend, and bought some materials; two tubes of paint and three mason jars."
She explained that at first the method she worked with did not turn out the way she had hoped but that did not stop, using her creativity.
Zaman made henna-like tubes and began drawing flowers and creating designs on the jars.
"The next day I took pictures and shared them online; the feedback was incredible, there were so many shares and reactions, it basically blew up. I even received many orders on just the first day," she said. She stated that one thing led to another and she began making more jars all while experimenting with her art and what she can do with it.
The young woman explained that her goal is to make inspire and make others happy with through her artwork.
"As an artist, putting my ideas out into the world, I only aspire to create beautiful things to not only beautify my life but the lives of others," she said.