By Alisa Lashley
FIFTEEN-year-old Shaniece Nanhoe, who was diagnosed with Rhabdomyosarcoma (RMS), a rare type of cancer, urgently needs money to commence radiation treatment.
Her mother, Shelly Balkarran, recently told the Guyana Chronicle that radiation treatment is her last hope, as 16 rounds of chemotherapy have failed to yield positive results.
RMS forms in soft tissue, specifically skeletal muscle tissue or sometimes in hollow organs such as the head, bladder or uterus. RMS can occur at any age, but it most often affects children.
According to Shaniece's mom, the doctors treating her daughter have informed relatives that $1.3 million is needed for the radiation treatment.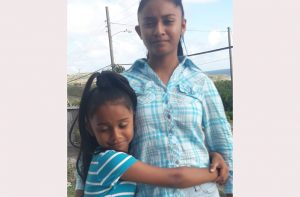 The woman told this publication that her daughter fell ill in July, but it was dismissed as symptoms of the common cold.
"I suggested that it was just a cold, so we watched it for a week. At that time, the eye started to get smaller, and we saw that there was like a funny look in the eye, and after that, the jaw started to swell, and we thought maybe she has an infection," the worried mother said.
The family took the teen to two dentists and an optometrist. They all said it was an infection and prescribed antibiotics. However, her condition worsened.
According to Balkarran, it was only after the child was rushed to the emergency room that it was discovered that she had a tumor.
The following month, the family travelled to Jamaica where it was discovered that the tumor is cancerous. While on the island, Balkarran said, her daughter was given one dose of chemotherapy, but due to the limited money they had, the family was unable to continue the treatment.
Balkarran said she then contacted the Guyana Cancer Foundation and returned home.
The mother said that her daughter's body recently began to reject the chemotherapy, and she is now forced to seek the public's assistance to begin radiation treatment.
"Three cycles ago; that is when we realised that the body is rejecting the 'chemo'. That's why we have no options; the cancer is now attacking her other eye. But as a mother, I have to try everything; and I'm going to fight this," she said.
"We have spent every dime that we had. We had a little help; we had help from family and friends, but you know, medical is not cheap, and that's why I came out to the public, and I'm begging for help… Whatever I can get, no matter how little it is I need. I'm not going to let this cancer take my daughter," Balkarran added.
According to the distraught mother, the cancer is moving aggressively, and as the tumor grows larger, it breaks the bones in her daughter's face, which means that she will also need facial reconstruction surgery. Describing her daughter as "a gift from God," Balkarran said despite her ailment and the tremendous pain, she is "as bright as a rainbow", and remains in high spirits.
Anyone wishing to assist the family can make contact with Balkarran on +592- 692- 4045.