By Rehana Ahamad
MY sister Fazana and I are like two peas in a pod; we're inseparable, and so, it is only obvious that we would want to be there to witness and support each other's biggest moments. When she told me that she had fallen in love with my now brother-in-law Dev, I immediately started to picture her wedding. I planned everything, mentally; from her dress, to my dress, to my speech as Maid of Honour; I even had images of what the centre-pieces would look like, and truth be told, I was well on my way to calculating how long I was going to dominate dance floor for; the answer was 'all night', of course.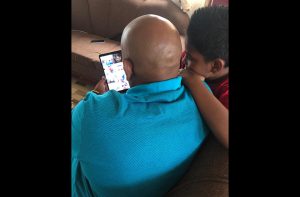 But, my sister's big day wasn't anything that I had pictured it to be. Of course, she was glowing, with the love of her life by her side, but unfortunately most of her family was missing. As a matter of fact, the highlight of the party, yours truly, could not have been there at all.
Because of the pandemic, the happy couple was forced to have a small, intimate ceremony. The date had been set well in advance and it just did not seem necessary to cancel the couple's big day. We weren't going to allow COVID 19 to ruin the one good thing that was set for 2020. As such, both the bride and the groom and their families agreed to a virtual wedding.
Because of this cataclysmic year plagued with a plague, my father, my two brothers, my sister-in-law, my nephew, my grandmother, and dozens of my aunts, uncles, cousins, and friends were forced to look on and send wishes from afar.
My dearest cousin, Melissa and her other half, Ronald, ensured that the entire virtual party did not miss a beat.
THE WEDDING
The ceremony was slated to commence promptly at 13:00hrs on Saturday, December 19, 2020. The groom was all decked out, the very few guests had taken up positions to see the bride walk down the aisle, and the Pastor was all cued and ready. Half an hour later, the bride was running late; there were even jokes that she was running on Guyana's time, which is currently an hour ahead of the United States. The tardiness of the bride, they are yet to learn, was owing to her delaying her hair and make-up by just a few minutes, so that she could have a heart to hear talk to our dad one last time as an unmarried woman – as his little girl. He was genuinely overjoyed, but I am certain that the tears he shed that day weren't all of joy.
Because of COVID, father was unable to walk his daughter down the aisle. I imagine how doubly disappointed he must have been, considering how concerned he is about my seemingly chronic spinster status. My mother, backed by her sister – my aunt Chandra, were there physically, on behalf of all the bride's family who desperately wanted to join in the celebrations with the happy couple. My mother walked my sister down the aisle, and my cousin Melissa delivered my Maid of Honour speech, and thanks to technology, we were able to witness it all.
THE CUSHION THAT IS TECHNOLOGY IN 2020
With the use of Facebook, we were able to create a chat room, which was joined by dozens of our relatives and friends from all across the world. I was surprised that the screens of our devices didn't crack from the outpour of love. It was far from being ideal, but it was also incredibly magical.
It was particularly pleasing for our very few introverted cousins who were able to enjoy the wedding without having to get caught in a crowd and forced to engage in small talk. Some persons were still in their pajamas, as they sent love and best wishes to the happy couple. Even though most of us would have preferred being able to dance our way into the kangan, (the post-wedding celebration), it was still a fun and exciting experience.
At a time when COVID has forced us to socially distance, technology and social media have become that silver lining. Had this virus been around 40-50 years ago, it would have taken a lot more strength for me to be here in Guyana while my sister was getting married miles away. It is safe to say that during this disastrous year, technology has served as a cushion for the effects of the pandemic. It has connected ailing grandparents with their grandchildren; it has enabled so many of us to keep our jobs; it has also been a critical means of information.
SOCIAL MEDIA AND CHRISTMAS
Today, as we join the rest of the world in celebrating Christmas 2020, many of our hearts ache to visit our friends and families; we yearn to hug them and to indulge in our usual Guyanese traditions. But unfortunately, an end to the corona virus seems to be nowhere in sight. As such, it is imperative that we maintain social distancing in an effort to protect ourselves and our loved ones from the plague.
Just as my family capitalised on technology to partake in a beautiful wedding, Guyanese are also encouraged to utilise various social media platforms as a means of celebrating in safety. This is also the expert advice of Dr. Rosh Khan, Managing Director of SocialRank Media.
"Technology enables us to remove, or at very least, reduce the feeling of 'distance' by engaging virtually through online mediums," Dr. Khan said.
He believes that while all COVID-19 protocols require us to minimise gatherings, it is also an opportunity to be creative by embracing all the wonders of technology.
"Doing video chats, playing online games, having movie watch parties, and using platforms like Zoom, Google Meet, and Whatsapp to share inspirational messages and expressions of love — these are all ideas that families can put into place," Dr. Khan posited.
He added, "Don't underestimate free tools like Whatsapp and Google Meet. Even Zoom has a free plan that can be utilized as well. Facebook Messenger also allows you to hold video calls with multiple individuals. Some families are already creating private Facebook Events or Facebook Groups where family members can openly chat and go live! These are all great platforms to use for small family gatherings."
Dr. Khan believes that perhaps the only silver lining of COVID-19 is that it has forced many of us to adopt technology at an accelerated rate.
"Although the Coronavirus will eventually go away, I don't believe our reliance on technology will. Why? It's added a layer of convenience in many areas. Medical consultations, exercise classes, working from home, increased e-commerce options, and even court cases are now being done online. So be warned: The future is here. If we don't stay up to date with technology, we will quickly get left behind," Dr. Khan maintained. Nonetheless, as we continue to do the right thing and socially distance, I wish you all a very Merry Christmas. I pray that 2021 is plague-less and disaster-free.