–Min. Persaud says the figures are 'staggering'
By Rehana Ahamad
A RECENT national survey, led by the Guyana Bureau of Statistics, has revealed that more than half of Guyana's females have at one time or another been victims of abuse. The findings specify that 55 per cent of Guyanese women between the ages of 15 and 64 had experienced at least one form of violence at the hands of their partners.According to Minister of Human Services and Social Security, Dr. Vindhya Persaud, a total of 1,009 cases of violence were reported for the period January – July 2019. "This period, we had 569 cases, and 457 earlier than that," Minister Persaud said during the launch of the hotline last Thursday at the Arthur Chung Conference Centre at Liliendaal, on the lower East Coast. Reflecting on the figures that came out of the survey, which she found quite "staggering", Dr. Persaud stressed that the 914 hotline initiative "has to work". She noted that "the figures show that nine out of ten perpetrators are men, and the most common form of violence is assault."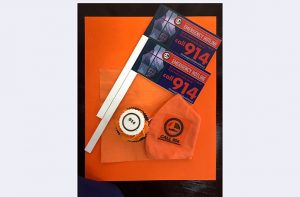 It was explained that some 60 per cent of all reported cases have resulted in the perpetrators being charged and prosecuted. But this, the Minister said, is still not enough. "We need to see 100 per cent," Dr Persaud asserted. The aforementioned survey had specified that while the global figures show one in three women worldwide being victims of violence, this translates to one in every two women here in Guyana. One such woman is Patricia Smithet, a mother of four who endured 12 long, frightening years of abuse from her husband. "He came into my life as a saviour in so many ways," Smithet recalled on Thursday last during the launch of the hotline number. She related that it was only after two years of marriage that things became ugly; that the violence began, and the covered parts of her body had become a veritable punching bag. Smithet recalled that it took her quite some time before she could become mentally prepared and ready to seek help. However, the process was a tedious one, and was plagued with many uncertainties. "Going to the police was much worse back then," Smithet said.
She said that since her then husband was a policeman at the time, it was much harder for her to get help. "A policewoman was trying to get me to a safe house, but he was in the Force; he knew where the safe house and so was," Smithet related. She noted that while it is often easy for persons to advise survivors to seek help and move on, it is not always that simple. "Unless you make up your mind, and love you, that's the only way you can do it," Smithet said. Recalling that for her, moving on was not easy, she said: "It is not promised. I tried moving on; many times, but he is always there. He used his police training on me." In chronicling her experiences, Smithet said she wished that the 914 initiative had come sooner, as she believes that had it been established years ago, it would have saved thousands of women from being abused, and dozens more from being killed by their partners.
"I wished it too," Minister Persaud posited. She noted that since "wishing" is water under the bridge, it is now time for every citizen to take up positions as advocates against violence, whether it is committed against men, women, or children. "Every person, male or female; every child that faces abuse is one too much," the Minister stated. In an effort to eliminate inefficiencies, Minister Persaud related that she is in possession of a list of police officers at various police stations who will be responsible for acting on reports received via the '914' hotline. "The point of reporting is the point at which it all starts; that person may have that one chance to report anything. And if we fail; if we lose their confidence; their trust at that one time, can you imagine the life they will continue to have," Dr. Persaud wondered aloud. She emphasised that the process is one that has a clear direction. "For this to work, it requires our team to respond effectively; it requires the police to intervene and take people to safety. To respond immediately, it requires many partners," the Minister said.
In addition to executing effective rescue missions, the '914' operation would also be linked to the Ministry's Survivor's Advocacy Programme, which will see survivors benefitting from the guidance and support of advocates for as long as needed. "They will have somebody who will hold their hand and walk with them throughout, until the conclusion," Minister Persaud noted. She said that while "nothing is perfect", the Human Services Ministry is determined to ensure continuous review and strengthening of its programmes, especially the hotline initiative. She maintained that every case of violence that happens is learnt behaviour for generation next. She insisted on the need for parents to raise their children to become advocates against violence and injustices.