Guyana's Carol Fraser wows with ROAR collection at virtual Holiday Show
GUYANESE designer Carol Fraser wowed viewers in Guyana and the diaspora as she joined several other Caribbean fashion designers in displaying their colourful collections at the first-ever virtual Holiday Show as part of the annual Caribbean Style and Culture Awards. Hosted by Chardelle Moore, CSC Creative Director, Chantney Renese and Fashion Stylist, Tee Wright, The Holiday Show showcased designs from Fraser as well as collections out of Trinidad and Tobago (Azizah the Brand, Thalassa Beachwear), Jamaica (House of Fennel) and Barbados (Kimya Glasgow). Fraser's line 'Roar' was a display of all white with imprints of the jaguar. Set against the backdrop of Linden's famous Blue Lake and Guyana's beachfront, her collection certainly wowed viewers with its crisp accents and Fraser's attention to detail.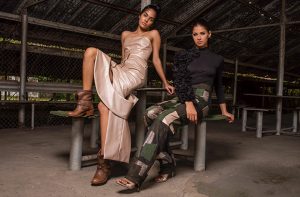 In an interview with the Pepperpot Magazine about her line, Fraser said that the line encompassed many aspects apart from fashion, including home furnishings, wine and body care items. "I think my brand is totally different because you can see yourself in my clothes sitting in one of the pieces of furniture and sipping the roar wine,"she said.
Fraser added that her brand was in the making for over five years and she feels it fully represents Guyana and showcasing the collection will add to the attention that the country is already getting. " We are well known for our El Dorado gold, diamonds, silver, bauxite and rice and more recently our oil. This is the right time to bring out Roar because the whole world is talking about Guyana and now Guyana is roaring in her oil. I want people to see a different part of Guyana,"she stated.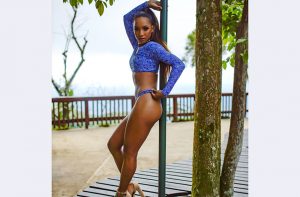 Fraser's presentation also included a performance by local songstress Vanilla. The other designers also chose collections that were close to home with T&T sisters Ariel and Alyssa Persad of Thalassa Beachwear presenting a colourful and dynamic resort-wear collection, while Azizah Mohamed's collection 'Reclaimed' was inspired by the occurrences of 2020 and how society has handled it.Jamaica's Fennel Moses' resort and holiday collection was a mixture of vibrant prints and colourful accents. Kimya Glasgow presented a cool, all-white resort wear collection as well.
The show was one of four virtual presentations livestreamed throughout this year in place of the annual Caribbean Style and Culture wards and Fashion Showcase which usually held in Washington DC in honour of Caribbean-American Heritage Month in June. The first three shows were livestreamed on August 14, 21 and 28 while the Holiday Show was livestreamed on December 10 on Facebook and Vimeo.