Doing their bit to serve the community
SOME youths his age are not gainfully employed, while others are doing other things to earn; but this 18-year-old is determined to make a better life for himself and family by buying and selling fresh cow's milk on his bicycle in the community and its environs.
Bharat Chandradatt better known as "Suraj" started the small business after his uncle, who was the village milkman, migrated and he was handed down the job, five years ago. He disclosed that he would get up early in the mornings and go to the neighbouring village Number 73 Village where he would purchase 10 gallons of fresh cow's milk from a cattle farmer.
He would return to his community where he would begin selling the cow's milk at $100 per pint from Number 70 to Number 75 villages on his bicycle. Once the milk is sold out he would return come to rest and start the routine all over again the next day.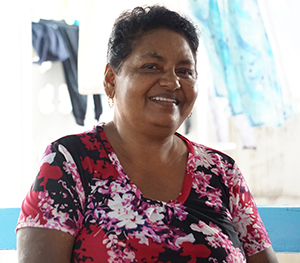 "I started this small business because I needed a job and when my uncle left for overseas, I took the opportunity because it was something to do to earn and I didn't see it as an odd job," he said.
Bharat stated that his father is often away from the home, since he works in the city while his mother is a housewife and it is his way of supporting the home. The young milkman said he doesn't mind being called a 'milkman' since it is a job and there is no shame in doing honest work to earn.
The young man told the Pepperpot Magazine that he would begin selling the milk at about 09:00hrs and by the time he reaches every customer which is about 20 households through six villages he would finish that task by midday.
"I have my pint enamel cup and gallon plastic bucket with cover and with my flap hat to help protect me from the sun's glare, on my bicycle I am ready to go work as any normal day," he said. Bharat is a resident of Number 72 Hong Kong Village, Corentyne, Berbice.
The Councillor
The Pepperpot Magazine also met the Neighbourhood Democratic Council (NDC) Councillor Shakuntalla Bhoj, who is also a resident of Second Street, Number 72 Village 'Hong Kong'. The 60-year-old is also a Social Worker and a Volunteer within the community who has spearheaded many projects to assist villagers.
She disclosed that she is also Chairperson for the village's Policing Group, but due to the pandemic the group of 15 members of the village isn't active at present. This group was formed in 2010. Bhoj added that over time the village has had some development in which they benefitted from street lights, cleaning of drains and trenches and well-paved roads.
She reported, too, a new walkway wooden bridge was constructed in the village linking two villages. The community leader stated that last month, residents benefitted from the government's COVID-19 cash grant relief of $25,000 per household and they were more than grateful for the much-needed monetary intervention.
She admitted that even though they have a garbage problem, the NDC is doing what it can because they have 24 villages to service in terms of cleaning drains, parapets, trenches, canals and the tractor/trailer has been down for some time. Bhoj revealed that some villagers are engaged in illegal dumping of garbage within the village, thereby clogging drains and trenches and are not in the habit of properly disposing of their waste.
She added that the village has all the basic infrastructure and believes that they are poised for more development within time. The councillor stated that the NDC is responsible for 24 villages from Number 52 to Number 74 villages, while from Number 75 to Moleson Creek comes under the Mayor and Town Council (M&TC).
Bhoj pointed out that due to the number of villages they have to serve, it is often difficult to do everything that is needed to enhance the lives of the people within a certain time but noted that works have been done in every village. "I can assure you no village is neglected under our watch and we do our part as the NDC and we do it when we can so I think that is fair considering it is 24 villages we serve," she said.
On another note, Bhoj highlighted that the social ills of the village range from drug abuse to alcohol abuse and in some homes there is a breakdown of morals and parental guidance; as such, some children and youths are up to no good.
She explained that with new people in the village, they have had some break-ins, including her kitchen and items were stolen on more than one occasion. Bhoj reported too that some parents are in the habit of drinking alcohol with their teenage children and they also send them to do odd jobs within the village to earn rather than having them schooled.
She disclosed that some young people would gang-up and loiter within the village and are up to mischief and there is little the police can do. Bhoj added that there aren't enough recreational activities to engage the youths and there is a need for some form of a resource centre to stimulate the young people in a trade or skills training.