I AM always celebrating life because every second is becoming more precious daily. Since Men Across Borders was released I have been thinking about how to contribute to the celebration for International Men's Day. Since the option of an in-person event was not available, virtual was the option.
Men Across Borders is not just an anthology, it is a mission and the objective is to encourage men and boys to contribute in a more meaningful way to society. We were engaged in several programmes on NCN Radio and Ron Bobb-Semple podcast.  Some of the co-authors who have sons joined the conversation, sharing what it is like raising sons. The co-authors shared various perspectives on a number of things including what societies expect of men to men's health. The highlight of the celebration for me was the forum for men and boys.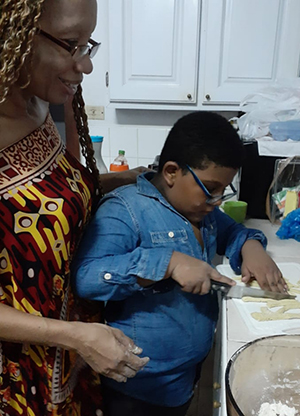 I must commend those brave young men who joined the co-authors from Men Across Borders for this meaningful discussion. Richard Young hosted the virtual event and I was the co-host. Creativity, character, courage, compassion, commitment and choice empower the 21st-century man. "We, the men of the older guard, must bond with millennials of the new guard and share experience, expertise and experimentation to forge collaborative inclusive dynamic life chances going forward. Redefining our parenting approaches, our brotherhood bonds and our community engagement would be all the better for the sustainable development of our future generations.
It is instructive for us, men, to foster balanced gender relations, so as to make our world a better place to live freely, love abundantly and laugh unabashedly!"Richard Young.
The first young man who shared his emotional story was Rickey from Berbice. His father had deliberately burnt him during intoxicated sessions. The gruesome details brought tears to my eyes and I was not the only one who was touched. He was inspired to be a doctor while in the hospital in the U.S. and is now pursuing his dreams at the University of Guyana. The cost of his education was sponsored by organisations and individuals.
Suresh Sugrim's message was on love and he urged young men to keep the three Ps in mind and they are potential, possibilities and promise. Seventeen-year-old Ethan from The Bahamas shared that his dad is his role model and he supports him 100 percent. He shared his battle with cancer and how he got the courage to achieve his dreams in the most challenging time.
Dr Uon Thomas's message was on courage and shared part of his journey where courage propelled him to find his purpose. It was awesome having a father and son join us. Mr Cecil Adam and son Hokel possess an enviable bond. He shared his father's techniques that he is proud of. The 14-year-old Hokel believes young men can show more appreciation for the environment and animals. I recognised how focused he is when he attended the Fashioning the future you classes my foundation hosted earlier this year.
Will Pluck who lives in The Bahamas emphasises that men and women don't need to bash each other because working together can achieve major milestones that can benefit everyone. Pastor Diego spoke about character-building and the importance of positive role models. He encouraged all to seek God for guidance. Pastor Alphonso is one of the persons responsible for the Guyana Chapter of CariMAN. The Caribbean Male Action Network (CariMAN) is a regional network of individuals and organisations in the Caribbean region working to challenge existing social and cultural beliefs and norms around masculinity and advocate for equality and justice for all. CariMAN is organised as a regional not-for-profit organisation, registered under the jurisdiction of the Republic of Trinidad and Tobago.
Trinidadian  Jerome Teelucksingh revived International Men's Day to honour his dad's birthday.  He intended to highlight positive male role models and the importance of men's health among other things. I think organisations such as CARI can make a major contribution because a lot needs to be done. The men expressed the need for more forums similar in nature.
I reflected on desperately praying not to have boys, because I was influenced by the men in my family not achieving. I now have a super bright grandson whom I adore and I believe he will be an example for many young men to emulate. We were cooking together just last week.
In closing, I encourage men and boys to intentionally take their health seriously because our health is the main part of our wealth. Also, to find creative and meaningful ways where they can add value to many lives, especially for those less fortunate.
A few people asked me if I was hosting this event to celebrate International Men's Day. This is not about gender but my contribution to humanity.
We must never forget we need each other as we celebrate this beautiful journey called life BEYOND THE RUNWAY.