… TCC, Supreme Petroleum sponsor tourney 
THE Tuschen Cricket Club (TCC)/Supreme Petroleum will be hosting its first T20 match since the pandemic, which will be played under strict COVID-19 mandates. 
Tomorrow's action will see the home team of the West Side, Cold Fusion Cricket Club, (CFCC) do battle against the Ancient County team; Blairmont Blazers (BB).
The visiting team brings some experience with a few junior national players in Marvan Prashad, Nigel Deodat, Seon Glasgow, Javed Karim and Kevon Jahwahir among highly talented Guyana players who will be on show.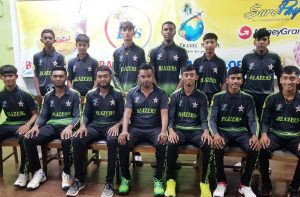 The one-day event is the brainchild of Director Mr Nazil Khan of Supreme Petroleum of Tuschen on the East Bank of Essequibo and Deputy Commander of Region #3 Mr Boodnarine Persaud.
Commander Persaud who is also the former president of CFCC, said the match will be played under very strict conditions which fall under the COVID-19 guidelines, outlined by the government's Task Force.
With no fans allowed, organisers promised that those in attendance will be required to wear their face masks upon entry to the Tuschen ground.
Match rules for the tourney will feature a 2-innings 20/20 affair with a 7-minute break between innings. Each team is allowed a maximum of 4 changes in the second innings. Officiating will be done by the board's umpires.
Bowl-off time is set for 09:30hrs with guest appearances from special invitees – Archie Mohan of Hawaian Arctic Cricket Club of Canada, Anil Beharry of the Young Warriors Cricket Club of Berbice and Maniram Shew, with commentary provided by National cricket commentator Inderjeet Persaud. (Clifton Ross)
 Cold Fusion cricket club team:
Tavindra Mangra (captain), Keyon Alexander, Kapildeo Charandeen, Jason Anderson, Ganesh Narine, Kevin Leitch, Chemroy Kendell (wicketkeeper), Darson Larose, Andre Seepersaud, Ricardo Chanderpaul Mohabir, Ravindra Dookie, Satesh Latchana, Rabindra Debideen, Ansar Khan.