–Solid Waste Director confirms
THE Mayor and City Council (M&CC) has rolled out a number of measures to ensure the adequate management of the anticipated influx of garbage during the upcoming Christmas season.
This is according to Solid Waste Director, Walter Narine who, on Tuesday, disclosed to this publication that garbage trucks from his department will work alongside contractors to manage the buildup of garbage in the city's commercial and residential districts.
He told the Guyana Chronicle that in addition to the garbage trucks, a walking crew, known as "street orderlies", will be patrolling the waterfront areas, stretching from the Avenue of the Republic to Water Street, with bins to aid in the effort.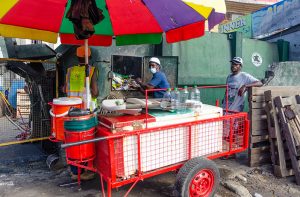 Narine explained that from October 15 to January 15, there is usually a 30% increase in commercial garbage, and a 15% increase in residential garbage in the city.
While noting that this situation is usually linked to the increase in shopping, he said that as a result of the COVID-19 pandemic, shopping has been limited.
But with an expected boom in business as the holiday season approaches, the Solid Waste Director assured the Guyana Chronicle that his department is prepared to handle any situation that may arise.
He explained that a weekly assessment is usually conducted to monitor the amount of garbage that has been collected, and if the data gathered shows an increase in the amount of garbage, additional trucks will be deployed to supplement the effort.
Recognising that a similar initiative was implemented last year, Narine said, "I do not foresee that you will have excess garbage on the roadside; last year we didn't have that."
Narine took the opportunity to encourage citizens to dispose of their garbage in a responsible manner, and to play their part in keeping the city clean.
The Guyana Chronicle on Tuesday spoke to vendors operating in the Stabroek Market area, and they gave positive remarks about the management of the city's garbage. One vendor, who goes by the title, 'Coconut Man on America Street', was pleased to inform this publication, "It is all good for now."