– shipper Marlon Primo to be offered protection when found
By Rabindra Rooplall
HEAD of the Customs Anti-Narcotics Unit (CANU), James Singh, on Sunday, confirmed that a broker and three officers attached to the Guyana Revenue Authority (GRA) are in custody, as investigation continues into a huge cocaine bust made in Belgium on a shipment of scrap metal which left Guyana's shores in September.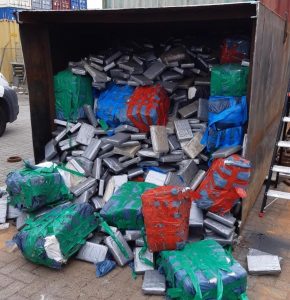 Those in custody include two customs officers who were on duty during the scanning and loading of the container before it left for Beligum.
The anti-narcotics agency is currently hunting for local shipper, Marlon Primo, in connection with the investigation.
Primo is attached to MA Trading, which is registered at 35 Factory Road, Paradise, East Coast Demerara (ECD). His last known addresses are 701 Cummings Lodge, ECD and 69 Atlantic Ville, East Coast Demerara.
The Guyana Chronicle was reliably informed that CANU will be offering Primo protection and security since he has expressed fear to his relatives.
On Saturday, investigators interrogated customs officers about the absence of images of the shipping container whose cargo was stated as scrap metal.
It was also discovered that the ship with the container stopped in Guadeloupe for a few days before making its journey to Belgium, and so CANU is now examining whether the shipping container had the same seals it left Guyana with, after it passed through Guadeloupe.
The 23,000 lbs of cocaine were neatly packed in a safe inside the container which was then covered with the scrap metal. The United States Drug Enforcement Agency (DEA) and Belgian authorities are collaborating on the cocaine bust.
Counter-narcotics prosecutors said they had tracked the trans-atlantic journey of 11.5-tonnes of cocaine from Guyana, on the northeastern coast of South America, and seized it upon its arrival at the Port of Antwerp.
The catch is "the largest overseas drug bust ever, worldwide," federal prosecutors told Belgian media, estimating the street value of the drug load at €900 million.
Three police officers, a port manager and a lawyer were among some 20 arrested as part of the operation targeting the "well-structured" criminal organisation suspected of orchestrating large and "regular" drug shipments from South America to Belgium.