By Jared Liddell
A LOCAL Non-Governmental Organisation (NGO) 'Clear Path' has been using its social media platform to empower youth through sharing their journeys as a way of encouraging and reminding them that they can achieve anything they set their minds to.
The Pepperpot Magazine reached out to the founder of the NGO Kibwe Copeland. He stated that the group was founded in 2016 with the main aim of empowering youths. Determined to find ways to empower youths and encourage them to achieve their goals, Copeland started to use the stories of other persons to show them what is achievable.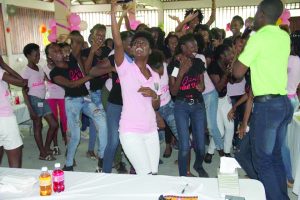 "Well when the group started and even now we also used journeys as an encouragement, so many persons have very inspiring stories whether they never had the resources to start up a business they wanted, or to take up a class that they wanted and now they're able to achieve the goals they set," the young advocate said. "So we like to celebrate those achievements, that kind of celebration a lot of the times makes people want to work harder."
He added that self-realisation is one of the most important aspects of success, stating that this is the aim of the group, to get its members to understand and acknowledge their worth.
He stated that the group does not just utilise its social media platform to recognise the achievements of its members, but also hosts several youth-empowerment events. He said one of the major events Clear Path hosted was the 'My Story' initiative as part of the Youth Recognition Week, when youths from all across the country were encouraged to share their journey and their achievements. The group used those stories to recognise the work of the young people as well as to inspire others.
Copeland stated that one of the main things that pushes him to continue the work of Clear Path is being able to see his members achieving their goals.
"There was this girl that is a part of the group, she always wanted to work in cosmetology and in the first Youth Recognition Week, we acknowledged her for having a job in a salon. By the third Youth Recognition Week we celebrated with her as the owner of her own salon. That's what makes it all worth it, watching these people achieve their goals and being a part of their journey. That's why I continue the work of Clear Path," said Copeland.
He further spoke to another of the Clear Path's initiatives, 'Girls stand up' which was done in Linden and saw over 100 teenage girls engaging in discussions on self-esteem and women empowerment.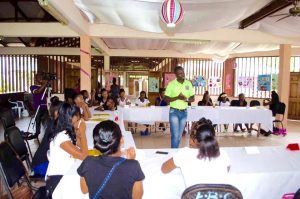 He said the Youth Recognition Week saw over 400 young people being recognised for their achievements. He added that the group has also partnered with several other organisations as a way to further assist its members to achieve their goals.
"While we empower, we don't just stop there, we also help, so we partner with different organisations and we help to provide opportunities for our members. Someone might have a vision but may have difficulty in getting the resources so we work as that mediator, we introduce them to the necessary persons and we help them to achieve that goal," he added.
Copeland further stated that although the COVID-19 pandemic has stopped the group from hosting some of the events it would usually facilitate through the normal channels, it has not stopped the work of the organisation. He called the work 'Necessary and invaluable,' explaining that Clear Path has changed the lives of many youths and emboldened them to follow their goals. He stated that the group has continued with its planned events and has utilised technology to facilitate this.