By Michel Outridge
Since the formation of the Community Development Council (CDC) at Long Creek on the Soesdyke/Linden Highway last month, retired head teacher, Gwendaline De Jesus has been leading from the front.
The veteran education, who is the secretary of the 300-member CDC, has used her organisational skills to create a developmental plan for her community.
She crafted an emergency and a long term proposal, which she submitted to the Minister of Local Government and Regional Development for guidance and approval.
De Jesus said that she is currently awaiting a response. In the document, she asked for a resource centre to be constructed for skills training of youths. The venue could also serve as a meeting place for village activities.
Also on the card is a storage facility and farming relief in the form of equipment for the residents.
"We want youth development so the young people in this village will not have to leave the village to look for work; they can stay and be employed through their own small businesses and other entrepreneurial aspects in this community."
Along with developmental aspects, the plan also highlighted the need for potable water and electricity.
HISTORY IN THE COMMUNITY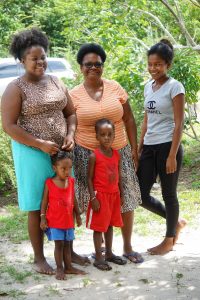 Community development is important to De Jesus, more so, due to her many decades in the area.
She said that her father was the head teacher at St. Cuthbert's Mission Primary School and her mother was a resident of that village.
As a couple, they later decided to move to Long Creek.
De Jesus stated that she has been living in the community since 1981. Ten years later, she started her teaching career in the village. In total, she served 35 years in the profession before she retired as acting head teacher in 2016.
During that time, she started a family with the only remaining Jamaican living in the community.
Long Creek was once a settlement for English and Jamaican migrants.
CAREGIVER
When she is not engaged in community activities, De Jesus is taking care of her bed-ridden mother, Ida Dundas, who is 88 years old.
In 2011, Ida Dundas was in good health and had travelled to the city to uplift her pension and reportedly fell which caused her to get blood clots in her head; she suffered a stroke and never regained the use of her limbs.
Ida Dundas, in her younger days worked as a housekeeper, but she was also a
craft-maker and was much sought after because of her talent. She also worked for the late President Forbes Sampson Burnham's wife, Viola Burnham where she made tibisri carpets for government buildings, including State House.
Sadly, her active lifestyle was brought to an end when she fell.
In her spare time, De Jesus would make cassava bread and sell it to complement her income. She also has a kitchen garden in her yard where she grows most of her food.
"Being a mother, a caregiver, a community activist and a farmer is a lot to handle but I have the will to make it happen and I will not give up because this village needs to be developed for our lives to get better," she said.
THE ONLY MIGRANT JAMAICAN IN LONG CREEK
Meanwhile, Fenton Hibbert is the only remaining Jamaican migrant, who left his homeland many years ago to settle at Long Creek.
The 74-year-old is a farmer and would tend to his crops early in the morning after which he would take a shower and go for a walk at his sister-in-law's shop for a much-needed drink.
That routine is repeated daily after which he would return home to have a nap.
Although he did return to Jamaica a few times, he told the Pepperpot Magazine that after he got children in the village he decided to stay.
He is the father of seven and is satisfied with the community's quiet way of life.
Hibbert likes hunting in his spare time. He would gather up his friends and they would go on an expedition in the forested area along Mabura.
The elderly gentleman said that in his youthful days he was advised to go to the 'gold bush' to earn as a miner and he invested his savings to buy a dredge and other equipment but he was unsuccessful.
Financially, it left a hole in his pockets and he decided to stick with what he knew, farming.