–to finish repairing Diamond roads within one-week deadline or risk having arrangement terminated 'with immediate effect'
THE next seven or so days could see contractors working on rehabilitating four streets in the East Bank Demerara (EBD) community of Diamond, racing against time to meet the new deadline they've been given to get the job done.
The deadline, in the form of a seven-day ultimatum from Minister of Public Works, Bishop Juan Edghill, comes after the contractors have been on the job since last year when they were awarded the contract by the past administration.
The ultimatum was issued on Wednesday after Minister Edghill and a team from Ministry of Public Works (MoPW) technical staff, as well as members of the Grove/Diamond Neighbourhood Democratic Council (NDC), including its chairman, Ms. Indrani Ramnarine, paid the community a visit to see how the work was coming along.
The visit was prompted by numerous complaints from residents, as well as members of the Grove-Diamond NDC, and sure enough, just as they'd been told, the team found that in many cases, the roads were just as bad as they'd always been, or, at best, unfinished.
Upon seeing for himself what obtained, Minister Edghill decreed that if the contractors cannot get the job done, the contract would have to be terminated with immediate effect, and just let staff of the Ministry's Force Account Unit do it instead.
"The people can't be suffering all the time; they need proper roads and infrastructure, and with my team on the ground, they will get the job done," Minister Edghill said.
In the contractors defence, the NDC Chairman said the last she heard was that they were waiting on asphalt to fill the holes in some of the cross streets. "We are happy the minister and his team are here today, and I am confident that they will get the job done and in a timely manner,"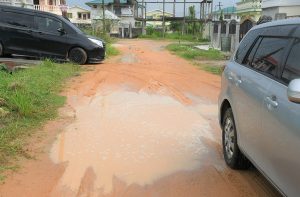 Ms. Ramnarine said.
In addition to those works that are yet to be completed, the ministry disclosed that the rehabilitation of four avenues in Diamond, namely 5th,8th, 11th and 17th and the construction of roads at Aqueduct Corner, will also be undertaken in the weeks ahead.
The ministry also disclosed that the main access road in the scheme will be fully patched, while some other areas will continue to undergo major developmental works.