– The Cinemas of Guyana
I was fascinated by a lecture at Moray House presented by knowledgeable engineer Bert Carter on the architecture of Georgetown. Despite the eagerness to hear more, I was unnerved at the same time because from what I've heard senior relatives speak about and from what I have read, and observed relics of, 'that Georgetown' was not all of Georgetown in its social realities and construct.
I was sitting next to Professor James Rose whom I knew way before politics caused us so many arguments and disagreements, but the longevity of our relationship still did not allowed the politics to continuously get in the way.
I turned to James and whispered about my worrying observation of the absence in every lecture I've heard and colonial books that I've read about the architecture of the other 'George-towns'. Except for one book, Michael Swan's second Book on British Guiana titled 'British Guiana The land of six peoples' that had pictures of a 'Big Yard and of James Street Albouystown' and early pictures of Laing Avenue pre-Independence.
To this, he leaned over and said: "You have the skill to make the missing relevant". I was doing stuff, but those stories of the other George-towns were in many ways painful, but they had to be told, and from a cultural perspective.
For readers however, it must be noted that New Amsterdam/Berbice, was the cultural seat of Guyana post 1900s. We had stalwarts like Vesta Lowe described as 'the pioneer in the field of Folk song preservation,' the national musician Valerie Rodway, the incredible writers E.R Brathwaite and Edgar Mittelholzer- passed, and the still present Stephanie Bowry an incredible original by all means. Additionally, there were also iconic musician and pianist Madam Joyce Ferdinand-Lalljie, the Dewar's and Philip Moore among others. They all eventually travelled to the port-town of Georgetown or beyond these shores, and it is here, in Georgetown that the competitiveness for cultural expression began in earnest.
The negative social norms of British class culture was inescapable in British Guiana. The false pretentions of class, terms like 'middle class and upper class' had taken on different meanings and categories of social segregation, even between families.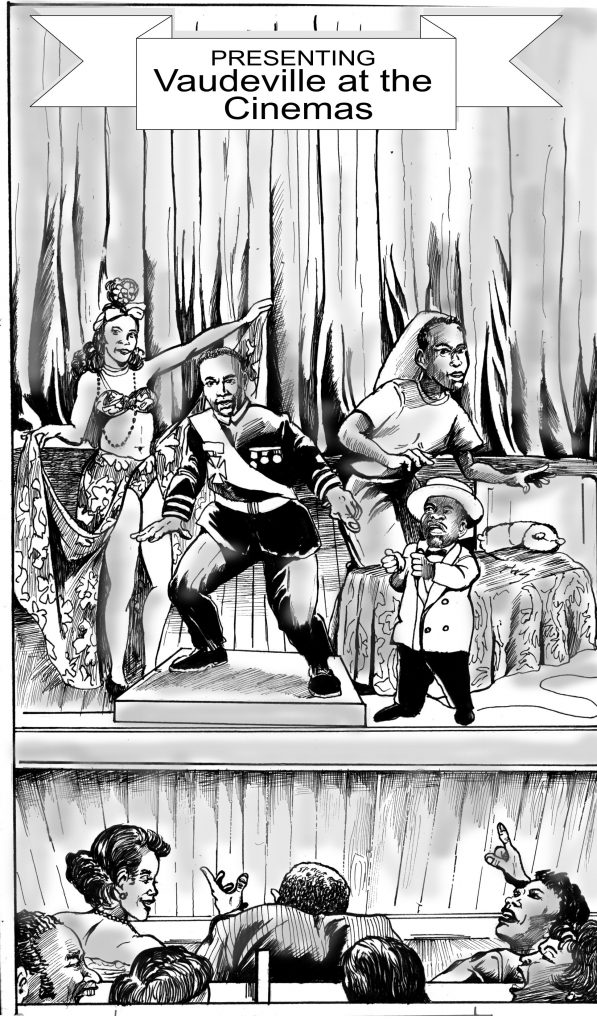 It was in the shadow of this functional foolishness that the cinemas became not only venues for foreign films but places of local grass-root cultural expressions.
I do not have the information on when the genesis of cinema hosting of cultural events began. Though, I can remember as a boy travelling with my Godparents whom I grew with on the East Coast, to hear Mahalia Jackson sing at Globe Cinema.
Later, when I became a semi-Independent teenager, it was in Globe Cinema (1971-2) again that I saw King Floyd, by then I wore a wrap front drain pipe, Clarks, button down shirt, and fat cap that signalled I was old enough to be a non-matinee patron.
But it was not only American shows like 'Sam Cook' who to my memory came at Liberty, but the local shows as well. There were more skits or short plays and comedy, rather than the theatre fraternity plays, which were held at the Theatre Guild back then.
'True to right' as the saying goes, I doubt that the grassroots posse would have made it to the Theatre Guild, these are the folks that entertained crowds at the League of Coloured People [LCP] fairs back then. The star of that era, Sam Chase (in the 1930s onward), is captured by a writer: "Unlike the politicians, trade unionists, sportsmen and educators of his time. Comedian Sam Chase has left footprints of his talented life, only in the minds of those who knew him." By Yvonne Isaacs: for Folk & Culture Illustrated volume1-1995.
I was able to lay hands on the treasure chest of knowledge that of the late Michael Corrica, better known as the Mighty Canary, to lead me into the parallel dimensions of past times, where revered names such as Corrica's were reiterated. "Sam Chase was the uncrowned king of the stage when the golden age of vaudeville cast its supreme cloak over a society that was in the process of attaining political independence after centuries of rule by European powers. You could sit with your children and grandmother at one of his shows without wondering if there will be some nasty, suggestive lines that would throw families in a vortex of embarrassment". Jack Mello, Madam O'Lindy, Sam Dopey, and many others like the late Mighty Intruder aka '32' added to the cast of talents, that found expression on the stages of the cinemas in the decades before 'The National Culture Centre.
In reality cinema stages inspired many great and not so great talents, but like many other important things in Guyana, they were allowed to fade away without ceremony and respect given.
I recall 'The Mighty Pengeh' who lived in one of those cottages that Petrie owned, prime Charlotte and Wellington Street real estate, sold out by children sent away to live in 'Foreign' who only came back to sell their birth-right. I knew Pengeh; we worked at Rice Board where the story was told to me that Ram, Pestano and the boys urged him to sing his debut at the Strand Cinema. Well, he took the 'crank' and was reminded the hard way that if yuh ent ready, the G/T audience gon pelt yuh with bottles and 'ganga eggs', and Pengeh was over six feet with shoulders, he was a prime target, I've always wondered though, where they got all those 'ganga eggs' from?