TWO young, talented teams will represent Guyana at the global platform of the Generation Unlimited Youth Challenge 2.0 after emerging as finalists at the country level earlier in September 2020.
Team 'Youths with Purpose' and Team 'Green Creatives' proposed technological solutions to tackle youth unemployment and hurdles in business development respectively.
At the final global judging process, they will compete for a chance to benefit from funding and mentoring to roll-out their solutions.
Generation Unlimited Youth Challenge 2.0 was launched in Guyana in January 2020 with a call to young Guyanese to develop their own solutions to real-world problems. It is a collaborative effort between UNICEF and the UNDP, and is focused on education and training, and entrepreneurship.
Starting initially with 10 teams, five finalists advanced, then the final two were selected. Despite the COVID-19 pandemic and other challenges, the teams remained dedicated in developing their ideas to address social challenges, and improve the lives of young people. Many have described this process as adventurous as well as engaging, given the COVID-19 pandemic.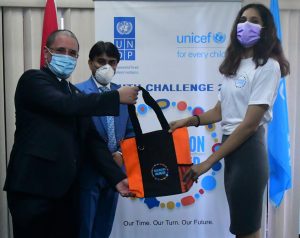 "It was truly a learning experience; we learnt so much, and we did things we thought we never could have done," said Delicia Fraser of Team Youths with Purpose, an all-female team. Highlighting the percentage of Guyanese aged 15-24 recorded as unemployed, team member Jasmine Clement explained their proposed solution, which is a web platform called Gambit.
"As a developing nation, the prospects to reduce this percentage is attainable if provided with the correct mentorship and networking opportunities, a task that cannot be done by the government alone," Clement said. She further explained that the web platform will facilitate this, and provide services such as resumé building, and job and entrepreneurship opportunities.
Team Green Creatives' Khadidja Yasmeen Ba, in describing the Green Thumb Creatives "app" her team will focus on, highlighted that young Guyanese entrepreneurs often experience a stunt in growth, due to the lack of information and guidance in a centralised location.
"Most of these small businesses are informal, which hampers their ability to access loans or grants through government agencies, developmental partners, and other potential stakeholders," she said. The "app" aims to provide a central hub for information, and registered users will have access to mentors, sources of funding, necessary paperwork and how to fill them, and open-source business development guides. Partnerships with organisations and government will increase opportunities available to users, Ba added.
NEED A PLATFORM
"Young people have lots of potential; all they need is a platform, a stage where they can unlock their potential and demonstrate their skills," said acting UNICEF Country Representative, Irfan Akhtar. "It's about showing the talent that young Guyanese people have," added UNDP Resident Representative, Jairo Valverde Bermudez.
Generation Unlimited, established in 2018 as a global multi-sector partnership, aims to support young people in piloting their ideas, with the goal of developing scalable and sustainable solutions in the areas of education, employment and civic engagement by 2030. It draws on the expertise of young people, representatives from governments, multilateral organisations, the private sector, and civil society to inspire urgent investment in education, skills training, and empowerment for adolescents and young people aged 10-24 years. The Youth Challenge calls on young innovators to design solutions to improve education, employment and civic engagement. It aims to inspire young people with brilliant ideas, but without the resources to bring them to life. Generation Unlimited forms part of the United Nations' Youth 2030 Strategy, and will complement and build on existing programmes that support adolescents and young people.
UNICEF works in some of the world's toughest places to reach the world's most disadvantaged children. Across more than 190 countries and territories, it works for every child, everywhere, to build a better world for everyone.
On the ground in about 170 countries and territories, UNDP works to eradicate poverty while protecting the planet. UNDP helps countries to develop strong policies, skills, partnerships and institutions so they can sustain their progress.