By Ras Wadada
THROUGHOUT the history of mankind, the magnetic power of sports has been recorded and proven as a vehicle to bridge gaps, heal wounds and more importantly to unify people, regardless of ethnicity, creed or language – underlining the magnetic powers of Sports.
Just over a week ago, our country was plunged into a state of shock and disbelief at the gruesome murder of two teenagers of African descent. The outrage and repercussions that subsequently followed included more related deaths, disorder, mayhem and the recurring question – how can we heal these deep wounds?
Despite the recent chaotic situation in West Berbice not being sports-related, some 11 heads of National Sports Associations/Federations saw it necessary to come together and make a joint statement to appeal to the nation.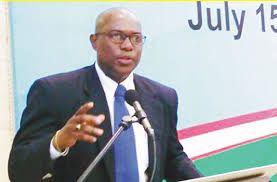 The virtual meeting via today's modern technology-based Zoom is unprecedented and is more than commendable, but beyond the narrative there must be action. As the old adage goes – action speaks louder than words.  .
The Zoom linkup was the brainchild of Wayne Forde, president of Guyana Football Federation (GFF), and in an invited comment to Chronicle Sport, he said, "We do have a national platform and if we are afraid to take the risk of being criticised at a dark and pivotal moment for trying to do the right thing, then I would say – that in itself is a failure of leadership."
The GFF boss suggestively added that, "Sports is the World's oldest unifier – tried and tested for centuries. What is also true is: once the celebration or anguish of the moment subsides, we instinctively go back to a world that is still searching for fairness, justice, equality and respect for all. To change this, it would perhaps take more than what sports have to offer.
"If we can all commit to a standard set of values that will become integral to our respective grassroots programmes – values that can shape how we see and treat each other from the earliest stages of a child's development – then that might just be the beginning of something good. This is the role sports can play."
The question that was posited by the writer of this article to most of the heads was – 'Is there a possibility that the 11 Associations/Federations can combine their expertise in using sports as a medium to build the broken bridges created within the communities that have been affected?'
In response there is a general consensus in the affirmative but the stumbling block currently is the global pandemic – COVID-19.
President of the Guyana Boxing Association (GBA), Steve Ninvalle in his response declared, "Intentionally or unintentionally sports. regardless of the specific discipline, unites a Nation. I welcome and applaud such initiative and assure that the GBA stands ready to play its part, once all is done within the mandate of the Health Ministry's COVID-19 guidelines.
"We sometimes underestimate the potential of sport. At this critical juncture we need all hands on deck, and that being said, there needs to be cogent conversations and discussions on how to unleash the full potential and force of sports in an effort to bring about healing and change".
President of the Guyana Table Tennis Association (GTTA), Godfrey Monroe, in his response opined, "I can say, on behalf of the GTTA and more particularly in my capacity as president, I truly endorse the value of sports in bringing common understanding among people of different backgrounds.
"There are numerous examples of sports providing the basis for understanding, healing, respect, excellence, healthy relationships, team work, camaraderie, morality, integrity, hope and as a key communication tool.
"Table tennis helped in resolving a major world crisis between China and the USA in the early 70s called 'Ping-pong diplomacy' where our own George Braithwaite played a meaningful role. I am therefore committed in the short-, medium- and long-term to lend support and resources towards using the sport of table tennis as a vehicle for meaningful change in the affected communities."
"Hockey is fully in support. Sports has created so many bonds for me with people of all walks of life, and I believe it is a powerful tool which can be used to build bridges and develop meaningful relationships," stated Philip Fernandes, president of Guyana Hockey Board.
While there could be nothing to totally comfort the family and villagers of the undeserved lost souls, this critical moment provides a golden opportunity to promote a lasting, positive memory through a cavalcade of sports, among the affected communities, on an annual basis.
A pertinent quote from British Sports Psychologist, Michael Caulfield – "Sports, especially football, can provide joy and escapism in times of crisis. Sports is a force and power for good. It is the glue of society that binds schools, villages, cities and nations. It matters more than we can think and we should not belittle its impact".
The other Heads of National Sports Associations and Federations, who held the historic meeting on September 10, were: Aubrey Hutson (Athletics), David Fernandes (Squash), Michael Singh (Basketball), Gowkaran Ramdhani, Aleem Hussain (Golf), Gavin Singh (Mixed Martial Arts) and Samuel Barakat (Tennis).
Of significance, and to emphasise the unifying force of sports, one does not have to go too far back in history, (one which I am privileged to have lived and enjoyed), to recall the West Indies Cricket Team's dominance of the World between the mid-seventies and early nineties. It is the most unified period in the history of the Caribbean region as a people.