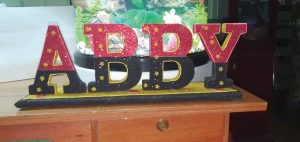 Some of the words designed by Chandranie PersaudWhile many are complacent about the pandemic and how it is affecting them in many ways, some are making the best of this downtime.
A 29-year-old Stella Maris teacher said that she used her free time she had and created a whole new source of income that affords her to live comfortably.
Chandranie Tiffany Persaud is a teacher by profession and also a senior Kathak student at the Swami Vivekananda Cultural Center.
The young woman told the Pepperpot Magazine that though this period has been difficult for most, she believed the answer to it all was keeping yourself occupied, doing things you love, and at the same time, finding a way to make more money.
"It is absolutely understandable if each of us to feel stressed, anxious, fearful and frustrated but our mental health is very, very important. Working from home is already a challenge and this is why many person's stress level will be high," she said. "My advice for those who may find it difficult during this time is to plan enjoyable things to do during the day and better yet in the evenings. Don't beat yourself up if you start running out of ideas; develop a new hobby, observe what is happening with kindness and come up with strategies to lift your spirit," she encouraged.
Additionally, creating a new stream of income is very important, she said, and it eliminates any added stress that was caused during this COVID season.
"I say this because I'm able to achieve other goals with the extra money and I'm able to live a more comfortable life," Persaud said.
Having some artistic skills, the young woman decided to take her hobby and create a "side job". She creatively designs letters to form words and names for decorative purposes.
"The idea of this new business venture is quite a funny one. I had gotten the idea from a good friend of mine, she said 'Tiffany why don't you get some letters and 'bling' them out nicely for your vanity?' I eventually took her idea, made it a reality and since then I've been doing this small business. I had my online classes three days a week in the mornings and nothing to do for the rest of my time especially with this quarantine and curfew," she said.
The young woman noted too, that it has been a difficult period, especially for teachers.
"I've been in the teaching profession since January of 2013 so that's approximately seven-plus years and I wouldn't trade it for the world. But during this pandemic as a teacher, more so a Grade Six teacher, I must say it hasn't been easy. But I somehow managed with the aid of technology,"she said. "I've had my kids sign up for Zoom online classes and I created a WhatsApp group with my class parents so I would usually send the work in that group for those kids who didn't have access to the online classes. So everyone was catered for some way or the other."
Balancing her love for teaching and her love for decorating, the young woman now has two streams of income and a very low stress level. She advises persons who may be inspired, to think, to question, to discover and to dream.
"Think about where you can end up but always remember education comes first and always love yourself," she encouraged.