By Naomi Parris
HABIBAH Akilah Atherley is not your typical "paint-on-a-canvas" artist. Gifted with her hands, Atherley can make almost anything into art, from clothing and textiles to even wine bottles.
Atherley, who usually does interior décor and makes floral arrangements for a living, recently embarked on a new art project– making decorative pieces out of wine bottles.
"I usually collect wine bottles, I've been doing that for about two years now, because I usually do floral arrangements with them. So I was like, what else can I do with this bottle," she said.
She noted that it was then the idea was birthed to do twine work with the bottles outside of the usual floral decorations. Her first bottle décor came out as she expected it would and soon after she started making more for home and office décor.
Atherley, who is an E.R. Burrowes School of Art graduate, started her career with clothing and textiles making fashionable clothing designs.
The 35-year-old, who majored in textile design and minored in painting, has been in the art world for over 15 years.
She stated that too many times people limit the definition of art to just painting and drawing, when in fact it is a broad spectrum of creativity; so in most cases, persons don't look at it as the first choice for a career.
"When I was being trained to be an artist at art school, they usually advise us that your basic career is just going to be teaching because you know in Guyana, it is appreciated but not to that extent to live on wholly and solely without having a job," she said.
Wanting to change the social norms as well as prove something to herself, Atherley pursued a full-time career in the arts
"It has actually been a struggle over the years and I'm still here and I'm still trying to push, still trying to believe in my work and the fact [that] artists can actually make a living out of this," she said.
Additionally, Atherley noted that she pursued a full-time career in art to also rubbish the idea or stigma people have that suggests that art is about just drawing and painting and that artists can't survive or make a living from such a career.
She noted that art is therapeutic and sometimes even a great way to exercise the mind, relieve stress and even bring people closer to each other.
Aside from that, Atherley stated that art is a form of self-expression that aids character and personality development, as it can help boost one's confidence and self-esteem; even on gloomy days art can make people feel good about themselves and adjust their surroundings.
The arts, especially visual arts, she believes, should be considered a language of self-expression, since it can be used as a means of explaining and putting one's feelings, fears and hopes out into the world.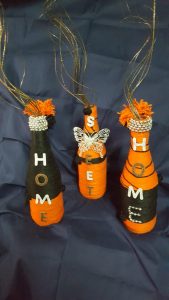 "Art can play a major role in lots of people's lives. It should be introduced from the smaller ages –from nursery up because you would want individuals, especially children, to express themselves not only verbally, but physically," she said.
Giving children the option to pursue an education in the art field, Atherley said, will help in their communication skills as some children are shy and visual arts can help to boost their confidence, as well as open up their creative thinking and imagination.
She added that the option should be given to children and they should be able to decide if they wish to pursue art as a hobby or a career without the societal norms weighing on their shoulders.
Aside from that, Atherley believes that the arts give people a sensational feeling of knowing that they were able to create something beautiful for the world to see, as well as gives the person who is on the receiving end the same feeling.
A living example of what the arts can do for you, Atherley's gifted hands and talents have helped to keep her afloat in times of an economic crisis during the COVID-19 pandemic. Due to her knowledge in clothing and textiles, Atherley has been making stylish face masks which have helped her put food on her table and pay her bills amid the pandemic.
"After COVID hit us, I was trying to think what else I can do as a way to help with the situation. I started doing that and you know now people are asking for the clothes with the mask," she said.