…owners robbed of cash and valuables
A POPULAR East Berbice Chinese supermarket was, on Friday evening, robbed by three men who carted off with $1.4 million in cash, a quantity of phone cards valued $50,000, two cellphones valued $144,000 and $35,000 along with an additional $10,000.
According to information received, at approximately 19:55 hours, the trio who were masked and armed with two guns and a cutlass entered and demanded the owners, who were at the registers, to hand over the cash. They also held a staff at gunpoint and made the customers lie face down on the floor.
A surveillance video seen by this publication showed that the men entered through the main entrance at the front.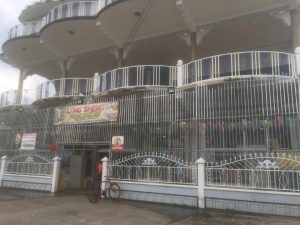 One of the proprietors, 48-year-old Qui Jing Zou, was at the register attending to a customer while her husband was standing in front. As the men entered they pushed the customer and Mr. Zou aside and brandished the cutlass towards the proprietress in the booth. They then bent over the counter grabbing the money from the register. Another then placed a gun towards the husband as they continued their demands. After relieving the business owners of the cash, the bandits turned their attention to the next booth, where they held 21-year-old staff, Saroja Ramdial called "Naresha", at gunpoint and ordered her to place the money into a bag. Ramdial was also relieved of her cellphone.
Baosheng Zou 22, who was also sitting in the booth was kicked about his body and beaten to his head with a gun where he was forced to hand over the large sum of money and his cellphone. Satisfied with their loot the men quickly made their escape by getting into a waiting car.
The young man had to seek medical attention at the Port Mourant Hospital, which is located opposite the supermarket, for the injuries sustained.
Traumatised customers who were in the supermarket immediately rushed out and went along their way.
Meanwhile, the police have arrested one person in connection with the robbery as the investigation continues.