– Traffic Chief calls on motorists to use roadways more responsibly
FOR a small country like Guyana, in terms of population density, what could cause it to have so many road fatalities by mid-year!
Eighty accidents and 84 deaths, 37 motorcycle-related! Wow!
Traffic Chief, Superintendent Linden Isles thinks he has the answer.
Put simply, he told the Guyana Chronicle, "It's an attitude thing! Drivers need to change their attitude, and they have to decide to follow the traffic regulations."
As he went on to explain, "These accidents are caused by reckless and dangerous driving, and that recklessness comes with the attitude of the drivers towards using the roadways. Nobody thinks about care, caution, courtesy, consideration and commonsense anymore; persons just go out there, and they want to get from point 'A' to point 'B'."
What is even more worrying, he said, is that although there are established speed limits across the country, such as 50 km/h in the towns and along sections of the East Bank Demerara corridor, most persons refuse to adhere to them, which, in many instances, can cost them or other road users their lives.
Speaking specifically to a certain trend among motorcyclists, Superintendent Isles said that in addition to brazenly flouting the speed limits, they oftentimes flatly refuse to wear their safety helmets when riding their motorcycles, and are in the habit of weaving in and out of the traffic in a dangerous manner.
Not exactly about to throw up his hands in despair, but clearly at his wits end, he said: "We at the Guyana Police Force have been doing lots of educational programmes, including Television and Radio, but persons need to have regards for their own lives and the lives of others. As I said, it is an attitude thing; the drivers need to change their attitude, and they have to decide to follow the traffic regulations."
YEAR TO DATE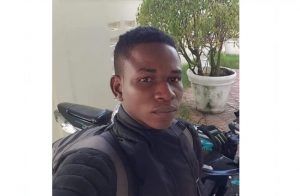 Among recent motorcycle-related fatalities is the death late Sunday on Mandela Avenue, in the vicinity of the National Gymnasium, of 31-year-old Leon Wilkins of
'B' Field Sophia, after riding headlong into a pedalcyclist who was crossing the road at the time.
Reports are that shortly before 18:00 hrs, Wilkins, who was riding an 'R6' Yamaha motorcycle, stopped to buy gas at a retail outlet opposite the Rubis Gas Station on Mandela Avenue. When he was done filling up his cycle, he reportedly hared off, headed in a northerly direction.
Eyewitnesses say that the motorcyclist was riding so fast that the bike ended up more than 100 meters away from the point of impact. The accident reportedly resulted in a significant build-up of traffic along Mandela Avenue, as the police valiantly tried to control the large press of people who'd converged on the scene, perhaps to see whether they knew who the victims were.
A similar incident was recorded on April 12, 2020 when 20-year-old Raphael Haly crashed the borrowed motorcycle he was riding into a utility pole on Second Avenue, Bartica, but died days later
while receiving treatment at the Georgetown Public Hospital Corporation (GPHC).
According to reports, Haly, of Robb Street, Georgetown, was in Bartica for the day, and had borrowed a friend's motorcycle to go and buy food. From information received, like Wilkins, Haly was riding so fast that he lost control of the machine as he neared a speed hump, and rode pell-mell into a utility pool.
Battered and bruised from head to toe, and rendered unconscious, he was rushed to the Bartica Regional Hospital, but was so badly injured that he had to be transferred to the Georgetown Hospital where he would eventually die.
Seems like Sunday, July 26, 2020 was not a good day at all to be out and about, as mere hours before Wilkins met his demise, 45-year-old Vickram Budhram of First Street, Mon Repos, East Coast Demerara, was struck down while waiting on a pedestrian crossing on the Mon Repos Public Road. That accident reportedly occurred around 14:00hrs, when the father of three was struck by a grey Toyota Premio bearing registration PPP 5422, the driver of which, eyewitnesses say, seemed to be in a mighty hurry to get wherever it was that he was going.
As at July 28, 2020, the number of road accidents stood at 80, with 84 fatalities, while for all of last year, the ratio was 98: 115, and the year before 79: 92.