…APNU+AFC supporters hold spirited protests outside GECOM
AHEAD of the Guyana Elections Commission's (GECOM's) meeting on Friday, scores of APNU+AFC protesters took to Main and New Market Streets in protest that the Commission must operate only on the basis of valid votes.
Police barricades were stretched across the Main Street location and visible at several other intersections near to the Commission's High and Cowan Streets office. Over 2 dozen police officers were on the scene.
About 100 protesters were gathered brandishing their party colours and banners shouting: "only valid votes must count!" Some protesters stood in a circle praying for an end result in their party's favour and others stood silently in support or re-directed the traffic from their growing crowd.
Two of the community representatives present told the newspaper that their intention was to send a clear message to the Elections Commission and even leaders within the Caribbean Community (CARICOM).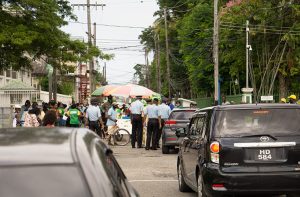 "On March 2, we went out in our numbers and we cast our votes in the right way and we are waiting on Justice Singh. We have great respect for her but we need her to do the right thing because valid votes are valid votes. There is no way they can use invalid votes to make a declaration…we're going to stand up for our rights," Leader of Constituency No.6 located in Sophia, Andrea Marks, said.
Meanwhile, Yvonne Ferguson representing Constituency No. 11 told the newspaper: "We are out here in our resounding voice to let the PPP/C and Claudette Singh know that we are not sitting down idly and taking nonsense. We voted solidly on March 2; therefore our valid vote must count!"
The protest comes subsequent to a July 6 protest on CARICOM Day, through which APNU+AFC protesters, from various parts of the country, took to the streets ahead of the Caribbean Court of Justice's (CCJ's) decision to make clear their position that the Court has no jurisdiction on the current Guyana elections case.
The groups of protesters were present in Georgetown at locations such as Mandela Avenue, Agricola and Buxton and even all the way in Linden. They were clad in party colours, face masks and held up placards while practising physical distancing.
Their messages included: 'CCJ Must Respect Guyana's Constitution', 'CEO Guided by our Final Court'; 'Respect Our Sovereignty' and more.
However, two days later, in assuming jurisdiction to hear an application filed by People's Progressive Party Civic (PPP/C), the CCJ set aside the decision of the Court of Appeal on the interpretation of the Constitution and invalidated the Elections Report submitted by the Chief Elections Officer (CEO), Keith Lowenfield.
The CCJ's decision placed the electoral process back into the hands of the Guyana Elections Commission (GECOM) of which the next step expected is the submission of an Elections Report by the CEO.