GUYANESE-American music executive Ron Telford has been making good use of the Zoom App to continue his work in the face of the coronavirus pandemic and has found that "surprisingly" his company can put in much more work.
"Recording and writing sessions have been conducted virtually through Zoom," he told the Buzz on Thursday. In fact, some "powerful" songs are being released during this period, he said.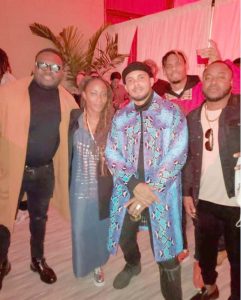 Ron's company, Creative Titans (CT), is based in the United States of America, and its goal is to find talent from all across the world, including Guyana, and hone such talent to the point that the individual may be able to secure a record or publishing deal.
Just recently, Spirit Music Group, a leading global independent music publishing company, signed a publishing deal with Ron's client, R&B singer/songwriter David Lyn, a Jamaican-American Miami native.
"With this deal, it brings a new partnership between CT and Spirit that allows us to highlight David's talent. It also expands our copyright share to a new network of talent worldwide," Ron expressed.
He has started a group called 'No Boundary' with persons of Guyanese origin who are successful in the music business. These individuals include Kerwin Bollers, Michael Brun, Ian Holder, SAINt JHn, GabSoul, and Kevon Jaundoo.
"We will start by creating panels and educational platforms to educate the government and musicians about the benefits of having a performing rights organization and more," Ron explained about the group.
He added: "Hopefully we can travel to Guyana soon, but Kerwin has helped us spread the word from the ground by doing weekly interviews on HJ 94 to introduce listeners to us and our initiatives."
Ron has had various roles across the music industry since 2008 and the team has been emphasising finding and procuring talent from Guyana, the Caribbean, Africa, Latin America and territories outside of North America.
"Our mission is to go after Guyanese talent, and we do have our eyes set on a few persons, but we will have to first sit down with them," Ron had told this publication in a previous interview.
His company can sign an artist upward of US$5M. "With this capacity, we can go after writers, producers, artists, from all across the world," Ron noted.
He played a key role in putting together Vybz Kartel "Watch Over Us", Koffee "Toast", Jorja Smith "Be Honest", Koffee feat Gunna "W" and Ludmilla "Verdinh."
Apart from finding Guyanese singers and songwriters, Ron has his eyes set on creating a performing rights organization in Guyana.
He said because Guyana has no such organisation, it makes it difficult for major companies across the world to come and do business here. It also hinders local artists from being adequately compensated for their work. "We're taking slow, baby steps to ensure that this becomes a reality. This will enable artists to access the worldwide markets."