– Says he hopes to inspire young Guyanese with his story
Guyanese/American rapper, songwriter and producer, Carlos St. John, popularly known by his stylised artist name 'SAINt JHN', has hit the number four spot on the Billboard Top 100 charts last week, with his record 'Roses'.
Just last year, SAINt JHN was featured in Beyonce's sensational hit 'Brown Skin Girl' and continued making waves on the international music scene.
The artist was interviewed on local radio station, 94.1 Boom FM, which was also streamed live on Hits and Jams Radio Facebook page, a few weeks ago while he was at the number 10 spot on the billboard charts.
In the interview, he boasted about his years in Guyana, and how it played a major part of his life story and who he is today.
He said that during his younger years he was bouncing between Brooklyn, New York and Dennis Street, Campbellville in Georgetown, having much exposure to two different worlds.
The 33-year-old artist said that Guyana helped him get to where he is. "This is part of my story. If I was a kid, and I was 12 years old, I wouldn't have known that it was possible. But I promise you, the next 12-year-old kid, now they know it is possible. Now they know they have a personal example of how it could happen," the artist said during the interview.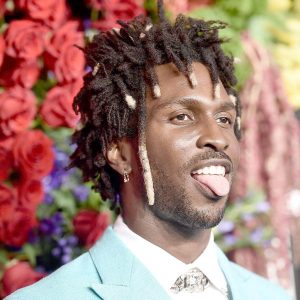 He said that to find the path to success is a really long book and you have to read every page of it. "But I can give you a really short version. Your hope will take you further than your feet. So the sheer belief that it is possible- that you can get out, gives you purpose and intention and it helps you figure out how to get out," SAINt JHN said.
Because of his growing experience, the artist said that he takes his platform and uses it to do good, for the purpose of doing the right thing.
On that note, he shared that following the receipt of a large sum of money which was donated for him to do a music video for his new hit, he bumped the donation up to US$125,000 and divided it between a bailout organisation for activists arrested during ongoing U.S. demonstrations following the death of George Floyd, and black-owned businesses affected by these events.
"I'm an artist and I make use of it and I express my opinion in that way and I'm telling my story in that way. So I got money to shoot a video, that means I got money to help… I just redirected what I got, whatever my resources are, I'm putting it towards that, doing the very least that I could to spread the Black Lives Matter movement," SAINt JHN said.
In relation to Guyana, he said that he had returned in 2016 with hopes of signing Juke Ross to his label, but later left it to his friend 'KJ', since he believed 'KJ' better knew what to do.
However, SAINt JHN mentioned that he to be that person who would knock on a young person's door and give them the opportunities they deserve.
As such he is looking to return to Guyana at some point to give that opportunity. In the interim, he said that persons can use his story as an example that anything is possible.