LEADER of the Justice For All Party, CN Sharma says that there is a clear winner of the March2, 2020 polls, and that the Coalition, of which he is part, should concede defeat.
"…an election has taken place under the watchful eyes of local and international observers. A national recount was carried out under the eyes of CARICOM. All votes were counted.
There is a clear winner. The recount shows that the PPP/C has won the election. Therefore, Mr. Irfaan Ali should be allowed to be sworn in without delay. I am appealing to the persons who are determined on delaying the process of a declaration; it has been an exhausting 108 days for all the sons and daughters of this nation. Enough is enough, I say! It is time for Guyana to move on!" Sharma said in a statement Friday evening.
He said, "The people of this country are starving and suffering due to unemployment caused by the pandemic. The country needs its government to make decisions; this is a time we must be strong and stand together. I simply cannot remain silent on this any longer; my love for country is unwavering. Whether we stand on the side of majority or the side of minority, we are all Guyanese. The Justice For All Party will continue to represent and serve the thousands of poor and voiceless Guyanese, and will work tirelessly to ensure the prosperity of Guyana always," Sharma added in his statement.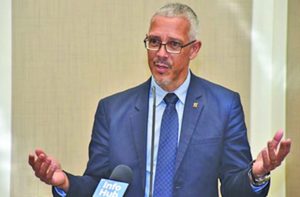 Also adding his voice to the matter on Friday evening was former Business Minister Dominic Gaskin who, in a lengthy Facebook statement, said: "My message to my colleagues in the APNU+AFC is simple. No one elected us to remain in office forever.
There is no reasonable basis on which you can claim to have won more votes than the PPP/C in these elections. Level with your supporters and start directing your energies towards becoming a credible opposition party in time for 2025. Above all, try to regain the trust of the swing voter; you will never win another election without their support."
Gaskin said, too, that the claims of fraud by the Coalition are grossly exaggerated and, unfortunately, designed to fool Party supporters, who had placed their faith in them into believing that there was actual evidence of serious elections rigging by the PPP/C. "The claim that vast numbers of Disciplined Services ballots were deliberately not stamped, and therefore rejected, is a case in point. The so-called intermixing stations are known, and it is a fairly simple task to sum up all the unstamped rejected ballots in those stations to support the allegation.
This, however, was not done, and the ominous suggestion was left to torment the minds of the men and women responsible for the defence and protection of our country and its citizens. All of this leads me to a very uncomfortable conclusion. The APNU+AFC has no intention of relinquishing control of the government.
Five years after winning an election and gaining office with a fair amount of goodwill, the Coalition is saying to the people who put us there, the equivalent of "unless and until WE are satisfied beyond a shadow of a doubt that "more votes are cast" in favour of another party in an election that WE deem credible, WE ain't going nowhere". That condition will never be satisfied."
Chief Elections Officer, Keith Lowenfield when he submitted his summary/report of the national recount on June 13, noted that, undoubtedly, cases of irregularities, anomalies and voter impersonation were present in the elections. Though the count of the ballots puts the PPP/C in the lead, he outlined 4,864 cases of voter impersonation and more than 2,000 anomalies which have affected over 200,000 votes.
The CEO also stated that the presence of these cases hinders him from determining that the elections were credible. He concluded that the election "… clearly does not appear to satisfy the criteria of impartiality, fairness, and compliance with provisions of the Constitution and the ROPA Cap 1:03."