– parents say COVID-19 or not, it's all in God's hands
By Gabriella Chapman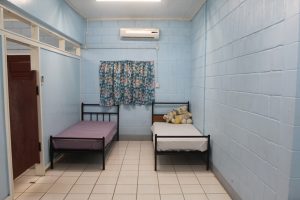 THE turnout was surprisingly encouraging on Monday as the parents of children attending government-run Primary and Secondary Schools around the country responded positively to the Ministry of Education's directive to have schools open their doors so that those pupils and students preparing to write certain exams shortly may do so in a classroom setting as they've been accustomed to over the years.
The examinations at reference are the
Caribbean Secondary Education Certificate (CSEC), the Caribbean Advanced Proficiency Examination (CAPE), and the National Grade Six Assessment (NGSA), all of which are due to be held next month.
And the reason what transpired came as a surprise was because the ministry didn't make attendance mandatory but rather optional, given the uncertainty whether parents would indeed comply with their decision and send their children out to school, in light of what is happening globally, especially in places like neighbouring Brazil for instance, with the out-of-control spread of the coronavirus.
However, as far as the Guyana Chronicle could tell from a fleeting visit to a number of schools around Georgetown on Monday morning, the ministry had nothing to fear, as they had the full backing of the parents on their decision.
The Guyana Chronicle also spoke with a few parents who were taking their primary-aged children to school to hear what were their thoughts on the subject of reopening in spite of the pandemic.
Indranie Lall, a mother of a Stella Maris NGSA pupil said that the reopening of schools was long overdue.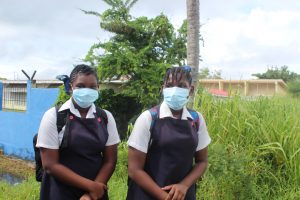 "Some parents may have mixed emotions about this, but for me as a parent," she said, "I'm happy, and I'm glad that we can eventually get this done. I'm sure our teachers will take all precautions; our children are well-learned with all the practices at home and going places. I think they are ready for this."
That said, Ms. Lall did not leave it there, but went on to offer a word of advice to other parents like herself.
"I'm urging parents not to keep their child at home; just send them out and let them do their thing," she said, "because you're depriving them of all the hard work they've done for the past five years, and so you just want them to come out and study. The exam is just two days; talk to them and let them do the right thing, and in the end, everything gonna be okay. Put everything into God's hands; He will protect all our children."
ALL IN GOD'S HANDS
Another mother voiced similar sentiments as Lall, saying that God is in control of the entire situation, and that everyone should have faith that the country's children will be safe. She also spoke of the role of parents in the entire process as well.
"Instead of being complacent about this," she said, "we as parents need to understand the critical role we play in this critical time. Driving fear in our children about this virus is not the answer; we have to help them understand the dangers fully, and sensitise them on how they can protect themselves from those dangers, so when they go into school now, they know and understand that they just came to focus on exam preparations, while adhering to the safety measures, then they'll return home." A woman who no doubt finds solace in the Scriptures, she said in closing, "This, too, shall soon pass, and our children will ride this wave. Guyana will rise again."
We also had a word with the father of a North Georgetown Primary School pupil, and he said that he's not 100% comfortable with the idea of sending his daughter to school, but yet at the same time, he doesn't want to jeopardise her chances where her exams are concerned.
"Even with the dangers out here," he said, "I think that as it relates to my daughter's performance at the 'Common Entrance' exams, this coming to school will do good for her, as compared to keeping her home. We just have to keep them in our prayers and hope all goes well."
MEASURES IN PLACE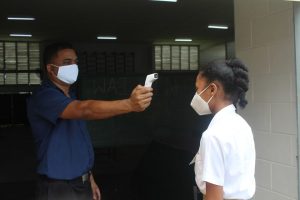 All the schools visited by this publication had measures in place to ensure the safety of their charges. Schools had mats soaked in bleach water to walk on before entering the compound; sinks with soap and hand sanitisers; infrared thermometers; and face masks for children who came without.
The ministry also provided care packages with all the items that the children will need to keep themselves safe.
No parents were being allowed into the compounds; only teachers and pupils or students. The schools also had a system set up, whereby the children kept their physical distance while awaiting their turn to be sanitised and have their temperature checked; even in the classrooms, the furniture are positioned six feet apart.
On the walls of some classes, there are also posters with COVID-19 guidelines to better sensitise the children about the virus.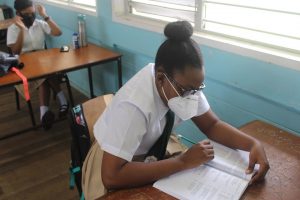 And while face-to-face contact is permitted between child and teacher, classes will not be held every day, the ministry said.
It was noted by the ministry that it will ensure each school has sanitation stations, with adequate water supply and soap, and bins with covers.
The MoE said the school's administration will also ensure that each school has a designated sick bay for any pupil or student exhibiting COVID-19 symptoms until emergency assistance arrives.
It also stipulates that all examination candidates must wear a face mask before entering the school compound, but that a supply will be on hand for those in need.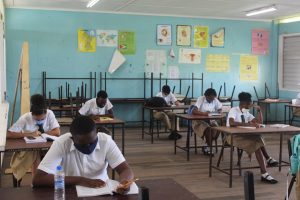 Among the raft of measures put in place, the ministry said, was that cleaners will be provided with the requisite personal protective equipment to protect themselves from COVID-19, and that transportation will be provided for those vulnerable pupils or students who live outside their catchment areas and cannot sit the examination at the centre closest to their home.
CSEC has been set for July 13 – August 4, 2020; CAPE for July 13 – July 31, 2020; and NGSA for July 1 and 2, 2020.