ON April 15, 2020, Elaine Grenada of Penny Lane, South Ruimveldt Gardens, celebrated her 100th birthday.
The eldest of five children, 'Granny Elaine' was born in Friendship, just next door to Buxton, a little over 11 miles from Georgetown, on the East Coast Demerara.
The new centenarian is a mother of four, grandmother of 16, and great-grandmother of 12. Her children describe her as loving, caring and compassionate; "All you could ask for in a mother."
She is reputed to have spent a significant portion of her younger life as a supervisor at the Trent House, a once popular guest house among expatriates and the elite on down-town Main Street. She currently fellowships at the South Road Full Gospel Church, where she said she is constantly in receipt of love and support.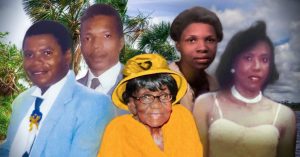 And though a vegetarian, she insists that she does have a specific meal plan; which is mainly a form of lacto-vegetarian plan. But she does indulge, from time to time, in a few eggs and a bit of fish, primarily for their nutritional benefits.
Asked what advice she'd like to pass on to the younger generation, in terms of how they could live to a ripe old age as she did, Ms. Grenada said, it would be that they should try to maintain a healthy relationship with God, as without His guiding hand, she would not have been able to achieve such a significant milestone.